There are multiple ways to withdraw money from your bank account, including using your ATM card, transferring it through your online banking app and writing a check to yourself. But if you don't have a check handy, you should be able to withdraw funds from your own account, as long as you bring proper identification and visit a branch of your bank.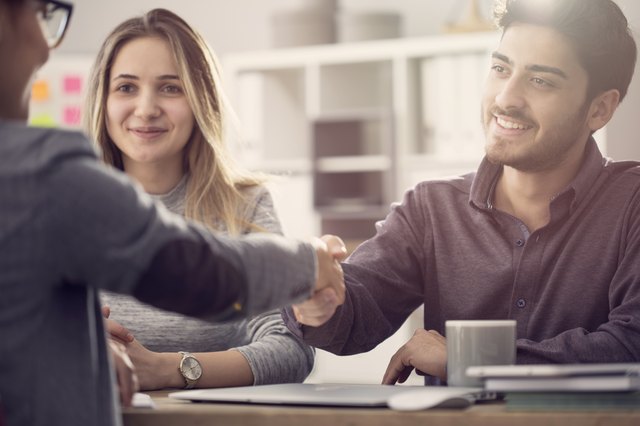 credit: seb_ra/iStock/GettyImages
Basics on Withdrawing Money
You work hard for your money and you deserve to be able to access it whenever you want. But keeping large sums of cash in your house is unsafe. So you put it in a bank account, where you likely use a debit card to pay for most of your daily purchases. However, sometimes nothing but cold, hard cash will do. In most cases, you'll just use your ATM card to withdraw it from a machine, but what if all you have is your checking account and routing number?
What Is a Bank Withdrawal Slip?
If you visit your favorite local bank branch, there are usually withdrawal slips you can complete. This is simply a small paper form, similar to a deposit slip, that you complete in order to withdraw funds from your checking or savings account. You'll only need your account number, which is the second set of numbers at the bottom of your checks and deposit slips. Often withdrawal slips are located at a center counter in the lobby area, but if not, you may need to ask a teller for one. Make sure you sign the slip in the presence of the teller. If your bank is doing its part to keep your money safe, the teller will ask to see a photo ID before handing you money.
How to Withdraw Money Using Account and Routing Number
The most popular way to withdraw money from an account is using an ATM card, since you can usually get the money in a few simple steps. But if you don't have your card or you simply want the in-person touch, you can visit a brick-and-mortar branch of your bank and fill out a withdrawal slip for the cash. If you have a personal check, you can also make it out to "Cash" and write in the amount of cash you need. In either case, you'll need enough money in your account to cover the amount you're taking out, and you may be asked to verify your identity.
How Much Money Can You Withdraw from a Bank Teller?
Most banks have daily ATM withdrawal limits of $300-$3,000 or so, but you can get around this by walking into the bank and interacting with a teller. As long as you have the money in your account, you shouldn't have an issue withdrawing it. However, under the Bank Secrecy Act, every bank is required to report withdrawals of more than $10,000 to the IRS. You may be asked why you are taking the funds out so that your bank can input the information on the IRS form. You also may find if you're trying to withdraw an extremely large amount, your bank won't have that much cash in the vault. In that case, you'll be forced to wait a few days to get the money.
Is It Safe to Give Out Your Bank Account Number and Routing Number?
Using only your bank account number and routing number, someone with ill intentions could set up automatic withdrawals from that account on a website that allows direct transfers. Some sites have extra precautions in place to protect against this, including dropping microdeposits in the account that its owner must then verify. Unless that person also had your banking password, they would be unable to continue. However, not all sites have that safety in place. Your bank is also supposed to have security measures to detect and prevent this type of fraud, but there are no guarantees. It's important to be as protective as possible with that information.
Can Someone Take Money Out of My Account With My Account Number?
Unfortunately, despite the dangers, consumers freely hand over their routing number and account number on a regular basis. It's printed on the front of any personal check you write. In addition to using that information to pay on various websites, a criminal could take those numbers and create counterfeit checks. Although you likely can't avoid writing paper-based checks at least occasionally, there is a danger with slapping a stamp on an envelope and trusting it to get to its destination through the postal system.