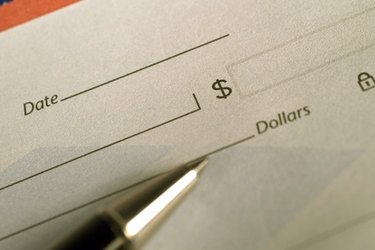 An eCheck is an electronic form of a real check. This payment structure is becoming more popular with more online merchants, casinos and auctions taking payments directly from the bank account. As the person "writing" the check, you obtain the account and routing number from the bottom of your physical checks. This information is provided to the vendor to pay for goods or deposit funds for use. If you need to transfer funds from one checking account to another online checking account, you can easily do this with an eCheck.
Step 1
Log into your online checking account. Provide the user name and password as requested.
Step 2
Navigate to the "deposit" section of your online account.
Step 3
Copy the account information from your physical checkbook. The routing number is the first series of numbers on the bottom. The routing number identifies the bank from which you are withdrawing money. The account number is the second series which identifies your personal account number.
Step 4
Fill in the online "deposit slip" with the information you took from the check. The deposit slip should include the routing number, account number, name on the check and the amount you are depositing.
Step 5
Authorize the transaction with your "electronic signature." Electronic signatures vary from bank to bank but are a means to confirm that you are the authorized user of the account from which you are withdrawing funds.
Step 6
Confirm the withdrawal from the checkbook account and confirm the deposit into the online checking account. This is achieved by calling customer service at either bank or checking your online bank balance.
Tip
It may take one to two business days for the transactions to clear and show up in each account. The account that received the funds may show the money as a pending transaction until it clears from the other institution.