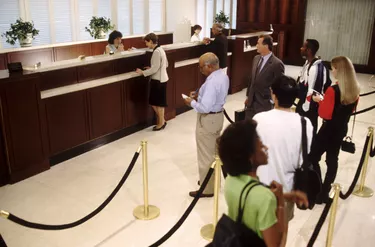 An electronic check is not any digital payment made from a checking account. Depending on the type of transaction you're making, you might be making a wire transfer, account transfer or other payment. Understanding how eChecks work will help you complete your transaction correctly and make sure you don't miss an important payment.
What Is an Electronic Check?
Electronic checks are transactions processed through a checking account using an Automated Clearing House and a payment processor. These are known as ACH transactions and can take several days to clear. These transactions are a little more complicated than paying someone through a digital app like Google Pay, Stripe, Cash App or PayPal, and might take extra time to move the money.
If you have online access to your checking account, or a paper statement handy, look at the list of transactions for the past month to see which have the letters "ACH" next to them. These are transactions that went through this process.
Echecks are different than wire transfers, which transfer money immediately but usually come with a fee. Find out if your bank charges a fee to receive or send electronic checks, as well.
Get Your Information Ready
Before you start sending an electronic check, get your bank routing number, account number and the next check number you have available. If you have a paper checkbook, the top check should have the number of the next check available.
With eCheck transactions, you might need to destroy the paper check with the check number on it you used for your electronic check transaction. If you don't, and you try to make a digital payment with check number 102, and then later use the paper version of check 102 to pay someone, the paper check will bounce.
If you want to make sure you send an eCheck correctly, visit your local bank. A customer service representative will help you through the process. You'll need to give your personal identification to verify you are the account holder. If you don't know the check number of the last check you wrote, the representative can check your account to see the last check you wrote and the number.
If you've skipped from checkbook to checkbook to write checks, this could get you in trouble. The representative might recommend that you use a much later check in the series to be safe, then tell you to destroy that check when you get home.
Log in to your checking account from your computer or phone, using your mobile banking app. Look for the option to send money. Select the option for sending an electronic check and follow the directions. If you have any problems, call your bank while you're in your account and have the representative walk you through the steps.
In some cases, you will need to fill out a form provided by the business you're paying, explains PaySimple. You'll need to fill in your bank routing number and checking account number.
Be careful when sending an eCheck online without help from your bank. If the person or business you are sending the check to is not legitimate, they might get access to your account information.