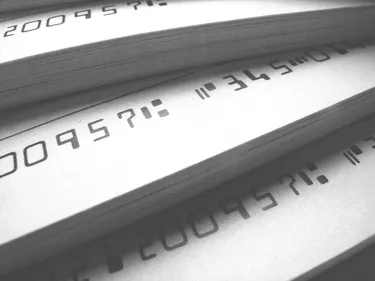 Even though you may mainly use your debit card and credit card, knowing the parts of a check is important. Sound personal finance dictates that you know as much about your checking account as possible.
At some point, you might need to perform a financial transaction that dictates knowing where your bank routing number and account number are located. A check is a pretty simple note, and you can find these numbers easily. But what's the difference between a routing number and an account number?
At first, the American Bankers Association (ABA) developed the ABA routing number to identify what financial institution was responsible for paying the note, in this case, a check. In other words, the routing number identifies what bank or credit union the check should go to in order to be paid.
But the ABA routing number has evolved. It now designates electronic funds transfer, online banking and a specific automated clearing house (ACH). In the financial market, a clearing house is an intermediary between a buyer and a seller.
The ABA routing number can now accommodate the Federal Reserve and the development of magnetic ink character recognition (MICR). The MICR is the line of numbers on a personal check that includes the routing number and account number. Both machines and people read it.
A bank routing number is imperative when making a direct deposit to ensure that the funds transfer goes to the correct financial institution.
An ABA routing number can only be issued to a federal or state chartered financial institution. This occurs once the Federal Reserve bank deems the financial institution eligible. The United States is the only country that uses an ABA routing number.
How Many Digits Are There in a Routing Number?
The bank routing number, also referred to as a routing transit number, identifies where your bank account is opened. It is easy to look up and is the only ​nine​-digit number on paper checks.
If you want to make a funds transfer to your relative or friend's bank account, you're going to need their financial institution's routing number. Likewise, if you make any wire transfers to a bank account, you will also need the routing transit number.
Where Can I Find My Routing Number?
The location of the bank routing number on a check is standard on all paper checks. Your financial institution places it at the bottom of your checks. It is the first string of numbers and is always a ​nine​-digit number.
A bank or credit union will assign you an individual bank account number when you open a checking account. Each account has a different number. For instance, your checking account will have its own bank account number and your savings account will have a separate bank account number.
Knowing your full account number for your checking account will help you with your personal finance. This account information is available on your bank statement. But you can also find your bank account number on your check.
Each financial institution places a full account number on the check. This ensures that the check goes to your bank account. You can also look up your account information using a check. Having the right bank account is especially important when you go to order checks.
How Many Digits Are There in a Check Account Number?
Your checking account number has a series of numbers to designate your bank account. Although each financial institution is different, generally, it will be anywhere from ​eight to 12​ digits in length.
Where Can I Find My Check Account Number?
You can find your check account number at the bottom of the check. It is the second set of numbers.
What Is the Difference Between a Check Number and a Check Account Number?
The checks in your checkbook are sequentially numbered. For instance, if you have two hundred checks, they will be numbered 1 to 200. The check number is located in the top right corner.
The check account number designates your bank account and is located at the bottom of the check. It is the second string of numbers.