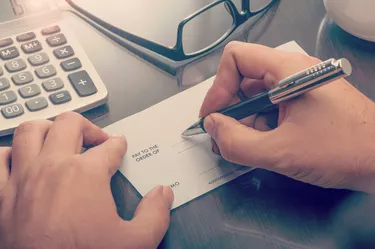 Paper checks might seem like a thing of the past in this day of online banking, credit cards and debit cards, but they can still come in handy sometimes. They're peppered with lines, boxes, numbers and information, including addresses. The account holder's address might appear, as well as that of the bank.
But there's a catch. Unlike most other information that's included, addresses are not legally required … at least not on personal checks.
When an Address Is Required
A bank or credit union won't just take your money and open a checking account in your name if you can't prove who you are and, yes, where you live. You'll be asked to confirm your name, date of birth and Social Security number or similar government-issued number. As for your address, the Consumer Financial Protection Bureau indicates that you may be asked to provide a copy of a bill or a driver's license or other government ID with both your name and address appearing on it.
Must Your Address Be on Your Check?
You might have to prove your address to the financial institution's satisfaction, but you do ​not​ have to agree to have it printed on your checks when the bank or credit union issues them to you. But be warned: Some entities or individuals that you might want to pay with a check could feel uncomfortable accepting it without this information.
You do have other options if you're concerned about the lack of personal security that's associated with having the location of your home advertised on your check. The Tarleton State University Police Department suggests asking your employer if you can use your work address instead or using your work phone number at the very least. A post office box is another good and acceptable alternative if you have one.
Checks With a Wrong Address
Maybe you went ahead and had your address printed on your checks…then you moved so now they bear your old address rather than your new address. Or maybe your address was misprinted and you now have 100 old checks in your checkbook bearing a home address where you never lived. This is generally okay too. You can still use checks with a wrong or old address, provided that the financial institution's information appears correctly. And you may want to give the payee your accurate, current address if you're comfortable sharing it.
It's critical that your bank's routing number appears correctly on the bottom left side of the check, as well as your account number. Unfortunately, you'll have to purchase new checks if any of this information is inaccurate.
You do have other options if you're concerned about the lack of personal security that's associated with having the location of your home advertised on your check.
While these steps can protect you when you're issuing checks from your own bank account, what about checks you receive? How do you know if they're legitimate? Can you be sure that an unknown issuer of the check won't be able to trace back to your checking account if you deposit it? You can take a few precautionary steps here too.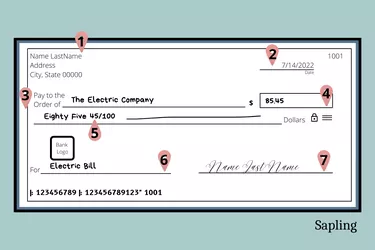 The bank's name, logo and address should appear just below the line where the amount of the check is written out in words (marked as line 5 on our image). The address might just appear as a city and state, but that's okay in conjunction with the routing number, assuming they both match up to the same financial institution. The AARP warns that you might not want to deposit the check – at least not without doing some further research – if this information doesn't appear, or if the address given is a P.O. box and you don't know or have a relationship with the issuer.
You can also do some detective work if an address does appear. Electronic Payments Core of Knowledge suggests checking it on the bank's website, or you can call the bank to confirm its identity and location. Keep an eye open for slight, almost undetectable differences, such as "Hampdon, Virginia" as opposed to "Hampton, Virginia." There's a chance that it's not just a typo. The check could be fake.