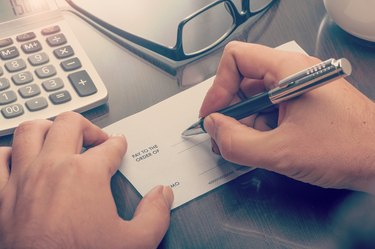 When you order checks, you have the choice to print your address in the corner or not. People choose to leave their personal address off of their checks for a variety of reasons but still may contend with merchants who ask for this information.
Reasons to Order Checks With No Address
One of the most common reasons for ordering checks with no address is because you move often. Especially during college and the early 20s, many people move as often as once a year or more. Reprinting checks can be wasteful and costly, especially if you don't use them often enough to justify several new boxes.
Another reason to leave your address off your checks is for privacy. If your checkbook is stolen, the criminal can quickly find your home and potentially steal much more from you. Or perhaps you are concerned a merchant or company will illegally misuse your personal information.
What Can Merchants Require on Checks?
On occasion, when you write a check to a merchant, he or she may ask for your home address. You may hesitate to provide this information, and in some cases, you can refuse. Each state has different laws governing what information a merchant can or cannot ask you to provide when making a purchase by check, so verify the laws in your home state. The customer retains many rights to privacy.
You may legally be asked for your driver's license to verify your address. In some situations, such as paying electric bills, you may be required to fill in your address on the check to confirm that it matches your account number.
Solution for Checks With No Address
If you find yourself writing in your address on your check very often, it may become an inconvenience that outweighs the benefits of having checks with no address. One solution is to print address labels to place on your checks. Be sure not to cover up your name or any important information or markings on the check. If you move, it is much easier and less expensive to reprint labels than to re-order an entire new box of checks.