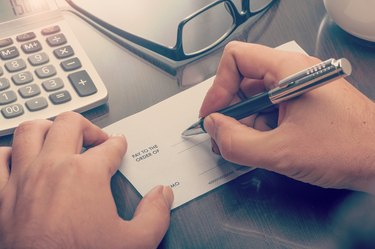 Do the benefits of putting your address on checks outweigh the disadvantages? The answer depends on how often you'll use them. Due to the fact that most financial transactions are completed digitally these days, even ordering the minimum number of checkbooks might mean you're stuck with them for many years.
Understanding the pros and cons of putting your address on paper checks will help you decide whether you want your address included on your checks.
Starter Checks vs. Permanent Checks
When you first open a checking account, you might be given a small number of starter checks with the bank's routing number and your account number on them. Some might include the check number.
Using checks without an address or check number (or a low check number), might cause the recipients to want to verify that the checks are good, slowing down your transactions. For this reason, you might want to put your address (with zip code) on starter checks.
To avoid this, you can opt to have your address put on the so-called "permanent" checks you order. This will help you make quicker transactions at retail stores or other places where an address is required. Depending on your state, you can refuse to provide this information, but the cashier might not know how to handle your request and call for a manager.
Street Address or P.O. Box
If you're going to be using checks on a regular basis, such as for a small-business account, you might want to open a P.O. box at your local post office. This allows you to put a mailing address on the checks without giving up your home address. Some businesses might still prefer a street address, but this will probably be rare.
If your minimum order of checks is 100 or more and you'll only use a handful each year, you'll be stuck with these checks for many years. If you don't think you're going to be living at your current address that long, you might want to order checks without an address on them. You can write your address on these checks with a pen whenever you need to.
On the other hand, if you have your address printed on your checks and you move, you can cross out the address on checks you use and put an address sticker with your new address over that area. If you don't want to use stickers, you can use checks with your old address on them until they run out. The only problem will be if the recipient needs to contact you and all they have is the address on your check.
Look Into Printed Stickers
If you've got a printer at home or can use your work printer for personal use, consider making address stickers. You can go to the stationery store and buy them on 8.5-by-11-inch sheets, set up the addresses in a text document and then print one or more sheets.
Just make sure the stickers don't cover up anything else on the check. You might not want to buy an entire box of address stickers (because you might be stuck with hundreds). Don't forget, you can use these as return-address labels for envelopes you mail or other ID needs. If your company doesn't mind, you might be able to get one sheet of labels free.
Print out your label setup on a piece of regular paper first, then hold it over the sticker sheet to make sure you've chosen the right size font to make the address fit onto one sticker. You can also print the label sheet, filling in only one label to see how it works.
You can set up different stickers, such as a dozen with only your name and address, a dozen with your name, address and phone number, and so on, depending on what you think you'll need in the future.
Different states have different laws about what information a business can demand when taking payment. For many years, businesses required your Social Security number, driver's license number, phone number and street address. With today's increasing identity theft problem, you don't want all that information printed on your checks.