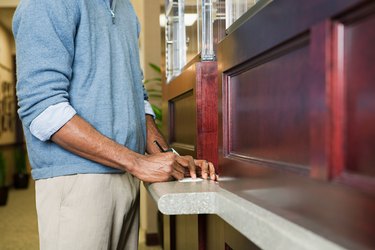 Starter checks are the first checks you'll write on your new checking account when you open one with a bank or credit union. The bank gives them to new account holders to hold them over until they receive regular checks for their bank accounts. They can be personal checks or business checks.
You can order your permanent checks at the time you open an account. Your real checks must come from a professional printer, and it can take a little time for the order to be processed and for the checks to be created and sent to you.
Your bank or credit union will most likely take care of ordering them for you. All you have to do is let staff know what information you want printed here. Almost all banks will provide this service. Starter checks are typically printed out right there at your bank at the time you open your account, according to SoFi.
You can also ask your bank for a starter check (or two or four) if you run out of regular checks after you've held your bank account for a while. This will give you some time to order a fresh batch.
Information on Starter Checks
Starter checks are effectively blank. Your bank is not going through the trouble, time or expense of printing your name and address on there for you. The only included information cites the bank and the account number from which the money for the check must be withdrawn: your bank routing number and your account number, according to GCF Global. But Trader Group Monetary Market Advisors warns that some banks won't print your account number on there.
A low check number might be included as well. You're just starting this account, so you haven't used a lot of checks yet. This should appear in the upper right corner of the check as well as at the bottom of the check to the right of the routing and account numbers.
How Much Starter Checks Cost
Your starter checks may or may not be provided to you for free, according to the Student Savings Club. They're often free checks, but there may be a fee if you want them personalized in any way with more than just the bank routing and account numbers, assuming your bank is even set up to accommodate this kind of printing process.
Do Starter Checks Expire?
A starter check is good for as long as a regular check is after you've written and dated it. This is typically ​six months​ under federal law. Checks have to be presented for payment within this period of time. Otherwise, they won't expire unless and until you use them.
Who Accepts Starter Checks?
Most retailers who accept regular personal checks will most likely accept a starter or temporary check as well, and you can also typically use them to pay your utility bills. But the recipient will most likely require that you write in some personal information by hand, including your name and possibly your address and/or phone number.
A starter check is a red flag that the account is probably brand new. It doesn't have a proven track record, and it may not contain sufficient funds yet to cover the check. The entity will want to be able to get in touch with you if your bank doesn't honor it.
Some mobile banking systems won't accept starter checks because an address isn't printed on them. And some government entities won't accept starter checks, either. For example, the Blue Earth County Government in Minnesota won't accept them for payment of passport fees. Check ahead if you're planning to pay a government fee with one of these checks.
What is the difference between a counter check and a starter check?
Counter checks and starter checks are the same thing, and they're sometimes referred to as temporary checks as well, according to MLCU.org.
How do I get a starter check?
Simply ask your financial institution for a starter check if you need one or more because you've run out of personal checks. There may be a fee of about ​$1 a check​ if you're asking for starter checks for this reason. Otherwise, your bank should voluntarily provide several of these checks to you at the time you open your account.