Electronic banking is so common that few people rely on checkbooks any more. However, some programs and services still require a voided check to enroll. If you do not have printed checks for the account you wish to use, you can create a printed check by having one printed at the bank, by using the bank's online bill pay system, or by downloading one of many free check printing solutions.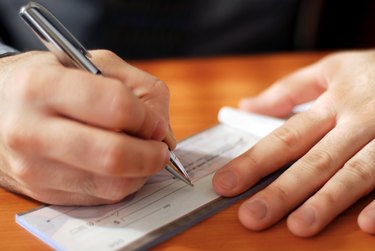 Why You May Need a Voided Check
You may be required to provide a voided check to enroll in a direct deposit program with an employer or to receive automatic payments from a pension plan or trust. Insurance companies also often require a voided check with an application for health, life or personal lines policies. If you own a business, you may need a voided check for electronic vendor payment programs.
The purpose of submitting a voided check is to eliminate any errors in the data entry of your account information and to verify that you are the owner of the account.
Visit Your Bank
Banks and credit unions supply a small number of blank checks preprinted with only your routing and account number free of charge, but this may not suffice if you are trying to enroll for direct deposit or insurance payments. You can ask to have your name, address and other required information printed on a blank, along with your routing number and account number. Not all banks do this, however, and there may be a fee.
Pay Yourself With Bill Pay
Probably the easiest way to get a check is to simply use your bank's free online bill pay system. Write a check to yourself for any amount — even one cent — and have it sent to you. It may take five days to arrive.
Use Free Check Writing Software
Another easy solution is to find free check writing software online, download your selected program, and use it to print your checks on regular paper. As long as the printed check has all the required information, that's all that is required for the purpose of submitting a voided check. As the recipient has no plans to deposit the check, a magnetic ink character recognition line (MICR) is not required.
Information required on a printed check must include your name and address, routing number, and bank account number. Your routing number and account number can be found on your printed or online bank statements; if you are uncertain, just call your bank and ask for assistance.
If you plan to continue using your check writing software for paying bills, you may need to purchase blank security paper and magnetic ink, available online and at office supply stores.