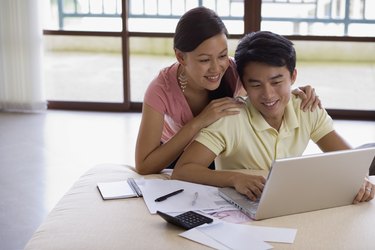 Online banking offers you a way to access your bank account information and conduct a variety of transactions over the Internet. Many banks also provide online banking through apps on your tablet computer or smartphone. Some banks, such as Ally Bank, Nationwide Bank and Bank of Internet USA, exist only online.
Signing Up
Getting started with online banking takes one of two forms. If you use a brick-and-mortar bank, you typically sign up for online banking services through your bank's website. If you want to bank with an online-only bank, you need to open an account with the bank through their website. The bank will ask for standard information, such as the account type you want to open, your name and your address. As a rule, you must also make a deposit into the account you create, answer security questions and create a password.
Online Banking Services
Online banking services vary somewhat from bank to bank, but most offer a set of standard services. These include transferring money between accounts, bill pay options and online statements. Some banks also offer online brokerage services, the ability to deposit checks from your phone and financial planning tools. A number of online-only banks also allow you to apply for and receive lines of credit, including mortgages and auto loans, through their websites.
Customer Benefits
Online banking provides you with a number of benefits. You can access your financial information at any time, which makes banking easier if you cannot get to a branch during regular business hours. Online banking also helps you prevent fraud. If you check your accounts and transactions on a regular basis, it allows you to spot irregular transactions or changes in your balance much sooner than if you only check that information on your monthly statement.
Potential Drawbacks
Online banking, especially via online-only banks, does create a few pitfalls. As online-only banks maintain no branches, all your customer service inquiries must happen over the phone. That situation might require you to reveal personal and financial information to a complete stranger in an unknown location. While banks typically maintain serious security on their websites, any online banking activity creates the potential for hackers to get access to your personal information and bank accounts.