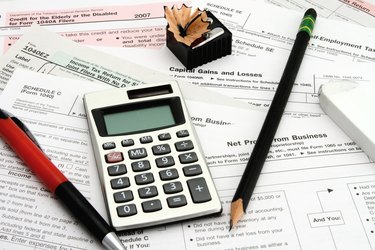 Tip
If you don't have a printer, go to your public library to download the form to request the 1099 or see if the library has a form F4506T among its IRS forms.
If you need a copy of your Form 1099 for your tax records, it is easy to obtain it from the federal Internal Revenue Service. You will have to send in a form to request a transcript of your tax return and specify that you need the Form 1099. You can download the request form and you can fill out the required information in just a few minutes.
Step 1
Go online to IRS.gov and click the link for "Forms and Publications." Select the "Directory list of filenames" link and click "PDF Formatted Files."
Step 2
Scroll down the list of forms until you find form F4506T. Click on the file to download it, then print it.
Step 3
Fill out your personal information on the form and check box 8 to specify that you want Form 1099. Enter the year for which you need the Form 1099 and sign your name at the bottom.
Step 4
Mail your request to the IRS at Internal Revenue Service, RAIVS Team, Stop 37106, Fresno, CA 93888 or fax the form to (559) 456-5876.