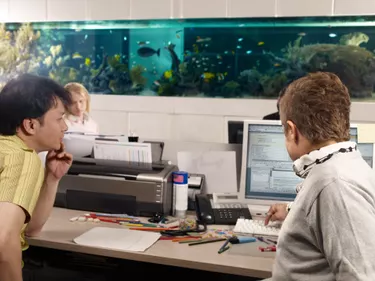 Can you print tax forms off the internet? Yes. And with more and more work shifting to contract, gig or solopreneur work, more people and businesses need to issue and receive a 1099 tax form.
The IRS has different versions of 1099 forms, so you'll need to make sure you use the correct form. Once you know which form you need, you'll need to know how to print a 1099 tax form off the computer.
If you find yourself asking, "How can I print 1099 forms?" following a few simple steps, you should be able to fill out and print the correct form, or print one and then fill it out.
Employees receive a W-2 form from their employers each year which gives them a breakdown of the pay they earned and taxes deducted. Workers who are not employees but receive certain types of payments and individuals who earn specific types of income also need a 1099.
Whether you are a freelancer receiving more than ​$600​ in annual payments from the same business or individual, someone who receives rent or royalties or an individual who received a tax payment, make sure to review the different types of 1099 forms to learn how to use them.
Issuers are required to send 1099 forms to the appropriate parties by ​January 31​. This gives the person time to use the form to prepare her taxes. If you don't receive yours by January 31, immediately contact the person or business who is supposed to send the form to you and let them know. Calling might produce a quicker response, but texting or emailing provides you with proof that the issuer knew you had not received your 1099 by the due date.
To download and print 1099 forms, visit IRS.gov and type "1099" into the search bar. You can also visit this page by clicking on this link. Look for the link to the version of 1099 that you want and click on the link.
You can also type "printable 1099 form" into a search engine and you'll find a variety of websites that provide these forms. You can do a more direct search by using the exact version number of the 1099 you want, such as 1099-MISC or 1099-NEC
If you are a 1099 issuer, you might be able to fill out and print the document, depending on the software you use. If so, save the document before printing it in the event there's a problem with your printer. Many programs save 1099s as PDF files. To make or print PDF files, you might need to download Adobe Acrobat Reader from the Adobe website or use a Mac's Preview software.
If you're printing a blank document you are going to fill it out by hand, follow the directions for printing the document provided by the website, or follow the directions for printing documents from your computer. This usually entails looking for the print button or icon at the top of the document or using the print function at the top of your computer screen.
After you click the print icon, you'll be given choices, such as whether or not you want to print the document in black and white or color. Print 1099s on white paper using black ink to make sure the IRS can scan them.
The IRS warns that the official Copy A online version of form 1099 is not printable because the text appears in red and can't be scanned by the IRS computer system. If you submit this version, you might be fined, warns the IRS. You can order this form from the IRS, or get it from a local stationery store or online forms vendor.
The IRS provides a page with instructions for printing documents, titled, "Saving, Filling-in and Printing PDF Files," that provides more helpful information. Be careful when filling out 1099 forms by hand – if every piece of information isn't legible, your submission might be rejected and you will have missed your deadline.