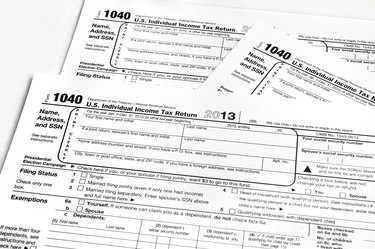 The IRS Form W-9 reports a vendor or contractor's tax identification number and business structure. You are required to issue a 1099 form to any vendor you have paid $600 or more to during the year, though government agencies and corporations are exempt from 1099 reporting. The form must have a tax ID number to be legally valid, but some vendors refuse to provide this information even though they do not qualify for an exemption.
Vendor's Responsibilities
It is the vendor's responsibility to send the W-9 upon your request. If you do not receive a W-9 before the Feb. 28 filing deadline for 1099 forms, you can still file your 1099s with a notation that the vendor did not provide a tax identification number. You will not be penalized for the vendor's failure to submit his information in a timely manner.
Backup Withholding
If you do not have a valid W-9 form showing that the vendor is incorporated or affiliated with a government agency and therefore exempt from 1099 reporting, you must take 28 percent backup withholding out of any future payments due to the vendor and send it to the IRS. You do not have to begin withholding until you receive notification from the IRS that the vendor's tax identification number is not correct.