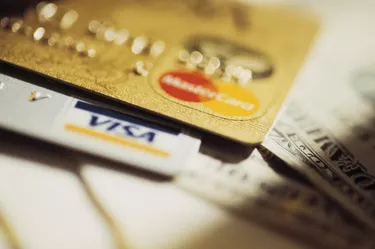 The Fair Credit Reporting Act (FCPA), regulated by the Federal Trade Commission (FTC), requires that all parties reporting to a credit bureau must provide accurate information. If a company or individual publishes false information to your credit report, you are entitled to sue for damages under the FCPA and potentially for defamation. You don't necessarily need a lawyer to sue a company or individual for reporting untrue information to a credit bureau, but it can smoothen the process and increase your chances of receiving a settlement.
Step 1
Order a copy of your credit report from each of the three major credit bureaus (Equifax, Experian, Transunion). Examine these reports for any inaccurate information, such as incorrect account amounts, false reports of late payments, untrue entries about delinquencies and debts that you may never have borrowed in the first place. File a dispute for every error that you notice with the relevant credit bureaus. If you ordered your reports online, you can use the web-based disputation form located directly on your credit report. If you have a hard copy of your credit reports, you can follow the disputation instructions included with them. If the credit bureaus are unable to resolve your dispute, you must prepare to contact the creditors responsible for reporting the inaccurate information.
Step 2
Make copies of all bills and correspondence related to an inaccurate entry on your credit report. Don't send the originals to anyone. Organize this material for ease of presentation. The burden of proof will be on you to demonstrate that a creditor has tainted your credit report with inaccurate information. Documentary evidence will likely be required if you expect to win a judgment against a creditor.
Step 3
Review the FCRA for potential violations committed by creditors. You will be eligible to receive a settlement of $1,000 from your creditors for each violation of the FCRA that you are able to prove in court. The credit bureaus are not liable for reporting information provided to them by creditors that they believe to be accurate. The creditors reporting the inaccurate information are the ones liable for damages.
Step 4
Consider contacting a debt lawyer to assist in your lawsuit. A lawyer is obligated to act in your best interests to the best of his abilities. The lawyer will be able to assist you in gathering documentation supporting your case and drafting initial letters to creditors informing them of your complaints about inaccurate information on your credit report.
Step 5
Contact the creditors responsible for the inaccurate information, including copies of documentation proving your case. Request that they change the inaccurate information within 30 days. Inform them that you may file a lawsuit for damages if they fail to comply with your request.
Step 6
File a lawsuit in your state against the creditor violating the FCRA with or without the assistance of a lawyer. Bring copies of all documents relevant to the debt, communications with the credit bureaus and your letters to the creditor in an organized file when you attend court. Remain calm and civil during the proceedings. If the judge accepts your case, you will be eligible for damages, the debt will be discharged and it shall be wiped from your credit report.