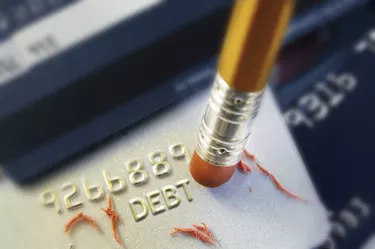 Despite what some credit repair companies claim, there's no secret way to get negative items removed from your credit report. If an entry is too old to be included, or an inaccurate item is being recorded as delinquent, write to the credit bureaus and the creditor to get it removed. Nobody, however, can compel a creditor to stop reporting negative information if it's accurate.
Pay Your Bills
The surest way to minimize the impact of negative items is to pay them off if they represent active delinquencies. That starts the aging process that will lower their impact on your credit score and eventually cause them to fall off your account. You may be able to negotiate how the debt is reported as part of a settlement, as creditors are not required to report negative information. Request that the debt be recorded as "Satisfied in Full." If the creditor won't agree, request that it be reported as "Paid." Ultimately, however, even a "Paid -- Settled" looks better on your credit report than an active extended delinquency.
Old Debt
Unpaid or delinquent accounts are supposed to disappear from your credit report after seven years, and most bureaus remove them a few months sooner to prevent mistakes. If you have older debt that's still being noted, write to the credit bureaus and demand that they be removed. Send any evidence that the debt is beyond the reporting statute, such as evidence of the last delinquency on the account. Check to make sure that a collection agency hasn't re-aged old debt by creating a new entry for it and pushing the date forward. If that's the case, include copies of your original account and the collection agency paperwork to show that they're referring to the same debt.
Inaccurate Entries
Credit reporting agencies are required to investigate claims that information on your report is inaccurate. Your best bet is to do it in writing; though you can do this online, there's less of a paper trail to confirm when your complaint was received and acted upon. Send letters via certified mail with a return receipt requested to the address noted for dispute resolution on your credit report. Unless the credit reporting agency considers your protest frivolous, it has 30 days to investigate. The credit reporting agency must notify you when the investigation is complete and note if any item was changed or deleted.
Talk to the Creditor
Contact your creditor if the information being reported is inaccurate, asking it to correct the information that it is reporting. Keep your tone civil regardless of how angry you are, and send copies of any evidence you have that the information being reported is incorrect. If you don't get satisfaction from the customer service representative, write or call the office of the company president or chief executive officer. This may escalate an investigation into your account if it's currently languishing. If you can't get through, call after regular business hours and leave a message.
Escalation Tactics
Contact federal or state regulators if you still aren't getting your negative items removed. Most states have a department that regulates debt collection, and information on that should be available on your state website. When all else fails, talk to an attorney who specializes in consumer rights. She'll be able to examine whether anything in your situation indicates that your rights under the Fair Credit Reporting Act are being violated.
Do It Yourself
You shouldn't have to pay to remove negative items from credit reports, and be wary of companies that offer to remove negative items and improve your score for a fee. Nobody can remove accurate negative information from your credit report. Anything a credit repair company can do without violating the law you can do as well.