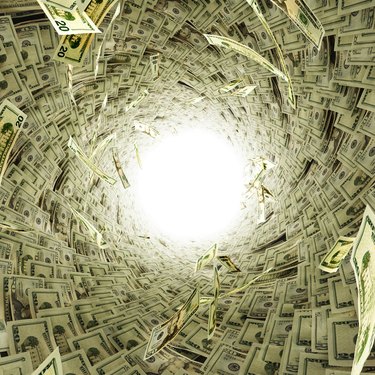 The Fair Credit Reporting Act (FCRA) grants you certain credit repair rights. This federal law is meant to empower you to fix credit bureau mistakes. Such errors are so common that 37 percent of people in a Zogby International poll who checked their credit reports in 2007 found bad data. You can sometimes clean up your credit substantially by using loopholes in the law to erase as many negatives as possible.
Free Credit Reports
The FCRA requires Equifax, Experian and TransUnion to give your personal credit reports for free through an official website, although they can charge you for report requests through their own sites. You only get one free report from each bureau every 12 months, so you must pay if you check your reports more frequently. You are entitled to no-cost reports, even if you already used up your annual allotment, if you apply for credit and get turned down. The loophole forces the lender to tell you which bureaus provided information that led to the rejection. Those bureaus have to give you free reports as long as you order them within 30 days, according to Bankrate.com.
Dispute Reasons
The FCRA makes credit bureaus process consumer complaints within 30 days, which means verifying or removing the data in question. The bureaus do not have to handle obviously false disputes, but the Divorcenet website advises that they are forced to check even the most minor true mistakes. Use this loophole to find things like dates that are off by a few days, creditor name misspellings or slightly wrong monetary amounts in negative entries. Creditors may respond with the correct information or they may simply ignore credit bureau inquiries, resulting in total removal of the harmful information.
Dispute Timing
You may be lucky in the timing of a dispute and hit a credit repair loophole without realizing it. Credit bureaus are not legally forced to investigate consumer disputes, but they must automatically remove the information in question if they do not attempt to verify it. The Divorcenet site explains that Equifax, Experian and TransUnion sometimes opt for immediate erasure if they are so busy that they cannot make a validation attempt within the required 30-day limit.
Time Frame
You cannot change the fact that you ignored certain bills until they were charged off, had accounts sent to collection agencies, lost your house or filed bankruptcy, but your financial history cannot haunt you forever on your credit reports. The FCRA provides for automatic credit repair within 10 years or less. The Federal Trade Commission website explains that most bad credit entries, like debt collector accounts and foreclosures, get dropped from your file in seven years, while it takes 10 years for bankruptcies to disappear. Current lenders never know about your past financial problems once the reporting time expires.