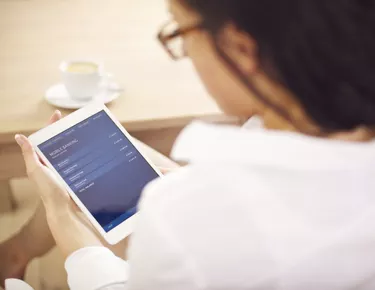 When cellphones turned into smartphones, and began to mimic the power found in most computers, banks have been able to provide consumers with powerful mobile banking apps that allow you to complete your banking from wherever you are. This includes making deposits -- depending on the bank and its mobile app -- checking funds, making bill payments, transferring or sending money. Mobile banking differs from the payment features available on many of today's smartphones, as it provides a sign-on link to your individual checking or savings accounts by an app you download from your bank's website. Though some European banks offered mobile banking as early as 1999, it took until 2007 for major banks in the U.S. to develop mobile banking apps that actually worked and customers wanted.
In the Beginning
Banks faced mobile banking challenges in the early part of the decade until the first smartphones hit the market in 2007. Consumers found it difficult to view their financial information on the small cellphone screens that were common at the turn of the 21st century. Some banks offered the service, only to discontinue it for lack of interest. In 2002, Wells Fargo developed a mobile banking service and only 2,500 customers enrolled in it. Because of the poor response, they soon withdrew the offering.
Smartphones Changed Everything
Once smartphones took over from cellphones, and the size and capabilities of mobile devices increased, so did the effectiveness of mobile banking. Banks introduced mobile banking apps that accommodated more types of cellphones, but smartphone users and advanced apps gave mobile banking the boost that made it a safe and viable choice. Consumers preferred the easier navigation and improved images and graphics offered by these updated, technologically advanced apps.
The Revolution
By 2008, even smaller banks began to offer mobile banking services and apps. By then, larger banks and their customers were using these services regularly. By 2012, more than 21 percent of all smartphone owners were using mobile banking -- in a report conducted for the Board of Governors for the Federal Reserve -- but 44 percent of that number belongs to the 18-to-29 age group, with the second largest group -- 30 to 44 -- representing 36 percent of those who use mobile banking apps. These numbers are expected to increase as more people rely on smartphones and tablets, and banks continue developing apps for a variety of mobile devices.