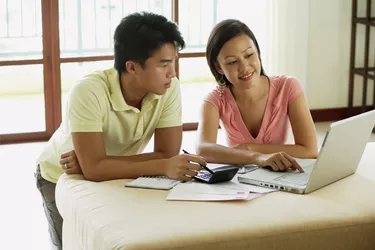 Financial institutions began offering customers access to their accounts from home via phone in 1981 and via the Internet since 1994. Online banking has gained in popularity to the point where paying bills online, transferring funds between accounts and making purchases are common practices among many computer and mobile device users. Even community banks offer customers electronic check services.
Foundations
In 1981, four large banks in New York City provided customers with access to personal accounts via landline telephone cables. This was initially referred to as "online" banking. However, what became online banking via the Internet began in October 1994 when Stanford Federal Credit Union gave its customers the opportunity to bank online. Presidential Bank followed a year later, giving their customers full access to personal accounts, the first bank in the U.S. to do so.
Virtual Banks
The practice of conducting financial transactions online gradually grew in popularity and by the turn of the century, 80 percent of U.S. banks offered customers online options. Since 2011, the Federal Reserve has conducted an annual survey on mobile banking. The Fed reports that each year mobile banking has increased among mobile phone users and especially among smartphone users, and it expects this trend to continue.
Mobile Banking
Mobile device users conduct online banking transactions on the go. For example, shoppers can check on their account balance while at the mall. Many mobile devices access banks electronically through text messages, phone keypad interaction and email messages. Business Insider reported in October 2014 that online banking, especially mobile banking among younger people, is increasingly drawing customers away from brick-and-mortar banks. Internationally, 57 percent of bank customers bank online regularly, according to Business Insider.
Electronic Checks
Customers who do not access bank accounts online still use electronic banking services when using an electronic check. Many stores, utility companies and websites accept eChecks. This is done by either scanning the routing and account numbers on the bottom of a paper check, entering the numbers online into a payment form or providing the numbers to a company via a telephone call. By divulging the numbers, the account holder is authorizing her bank to pay the merchant. The bank verifies the information through a secure transfer system, debits the customer's checking account and the receiving bank, then credits the merchant's account. The entire process happens in the virtual world with no paper documents changing hands.