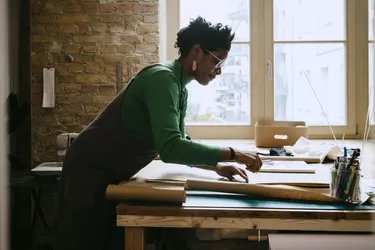 The coronavirus pandemic shut down many businesses and put many people out of work. But there was an unexpected positive, and that was startups. People across the U.S. and worldwide came into their own and became entrepreneurs.
That entrepreneurial activity didn't stop, either. Another new business record was set last year. According to the U.S. Census Bureau Business Formation Statistics, in 2021 5.4 million new business applications were filed to establish a new business. This surpassed 2020's 4.4 million applications. Another positive was that almost one-third of these applications intended to hire employees.
In the past, startups have spurred innovation and economic recovery. There wasn't a new business surge after the 2019 Great Recession, and the economy was slow to recover.
There were a lot of layoffs during the pandemic, and many individuals made the decision to start a business. Even those who kept their jobs made the plunge. Having had remote work, some wanted to continue with that flexibility and work for themselves.
Those people who enjoyed hobbies took advantage of the layoffs and made their hobby a business.
The overall reason was freedom. People wanted to have the freedom to be in charge of their career paths and work schedules. Many also wanted the freedom to do what they loved.
With the pandemic, there was an opportunity for these new entrepreneurs to take advantage of opportunities and resources that were made available when established businesses fumbled or failed.
Business-to-Consumer Businesses
About 80 percent of these new businesses sell directly to consumers. Business to consumer (B2C) was made mainly popular for several reasons. One reason was digital. Many entrepreneurs took advantage of everything the internet has to offer.
New business owners took advantage of e-commerce. Many drop-shipped and sold goods through Amazon or Shopify. Etsy became a great way to sell goods that were designed and created by the entrepreneur. These platforms became the new business owners' storefronts.
A survey conducted by Gusto and the National Association of Women Business Owners discovered women of color made up nearly half of women who started their own business during the pandemic.
Services that were business to business (B2B) also were representative among entrepreneurs. People in entry-level assistant positions or office managers tied down to set hours felt it was the perfect time to break free. They became virtual assistants and bookkeepers. This allowed them to set their own hours and choose who they wanted to work with.
Others became freelance writers or graphic artists and catered to other new businesses.
One reason new businesses could be developed so easily and quickly was the low cost to entry. There wasn't a lot of investment necessary. For example, a virtual assistant merely needs a computer, Wi-Fi and a phone.
A lot of companies launched their new business with less than $10,000. Most company founders withdrew from their bank accounts or retirement funds. Some went to friends and family.
Women Entrepreneurs Increased
Many women were driven out of the workplace in 2020. But that doesn't mean they quit working. Women became entrepreneurs in record numbers. During the pandemic, 49 percent of businesses were started by women. That's up 27 percent from previous years. And women are more likely to go it alone, whereas men buy a business.
A group on social media, Women Business Owners, went from 1,000 members in November 2019 to 15,000 by August 2020. Today, the group has around 21,000 members. The group was founded by Amber Powers, president of Powers Digital Marketing.
A survey conducted by Gusto and the National Association of Women Business Owners discovered women of color made up nearly half of women who started their own business during the pandemic. These women said they founded their businesses out of financial necessity when they were laid off.