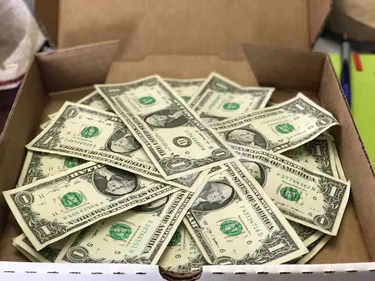 The pandemic lockdown may be over, but businesses are still facing challenges in many areas. One of these is a worker shortage. The National Federation of Independent Business reported last year that 42 percent of businesses had job openings.
Domino's has implemented a way to help them with their employee crisis. Domino's is paying their customers to help.
A shortage of workers has Domino's Pizza trying to push customers to pick up their pizzas. In January 2022, Domino's announced they would pay each customer who orders online $3 for picking up their own pizza at a Domino's store. In other words, when a customer places an online carryout order, instead of the customer tipping the pizza delivery driver, Domino's will be tipping the customer. This move was due to pizza delivery drivers' shortages.
The $3 credit is valid for one week on the next order of pizza online. The promotion lasts through spring 2022.
With worker shortages and rising food prices, Domino's and other restaurants are trying to come up with alternatives to delivery.
Two-thirds of Domino's U.S. sales are delivery services. And they have resisted using third-party delivery apps like DoorDash, GrubHub or Uber Eats. But a problem has developed with the Domino's food delivery model. They are having a difficult time finding drivers. But when people use third-party apps, they are hit with fees. Domino's is doing the opposite.
Since the Domino's pickup push is happening weeks before the Super Bowl, the third-party delivery service will probably try to take advantage of this situation.
Statistics Show Unemployment
The U.S. Department of Labor reported that in January 2022, 467,000 new jobs were added. Yet, unemployment increased from 3.9 percent in December 2021 to 4 percent in January 2022. The pre-pandemic unemployment rate was 3.5 percent.
The number of jobs that were added in January 2022 was a surprise. Most economic analysts had expected only 150,000 new jobs. But still, unemployment increased. Where are these prospective employees?
There's a phenomenon going across the U.S. with employees. Workers are quitting their jobs and disappearing from the workforce. Sometimes this comes without any notice. Childcare, lifestyle changes, health concerns and stress are all factors when it comes to the Big Quit and worker shortages.
Lack of Childcare a Factor
With many schools and daycares closing periodically due to the coronavirus, parents are left scrambling to cover their children's needs. Unfortunately, this has kept many of them from seeking employment.
Lack of adult care for aged parents is another reason some people haven't returned to the workforce.
A shortage of workers has Domino's Pizza trying to push customers to pick up their pizzas.
Lifestyle Affects Career Choices
Jobs with flexibility have become important to people. Unfortunately, those jobs in the hospitality or dining industry, like Domino's, are not attractive. Instead, remote jobs are preferred.
Retirement during the coronavirus lockdown took a lot of employees out of the job market. According to Goldman Sachs, of the 5 million employees missing from the workplace, 2.5 million are retirees. In addition, the Federal Reserve Bank of St. Louis claimed that over 3 million retired early due to the pandemic.
Some employees are concerned about returning to work due to the COVID-19 threat. There are employees waiting for the pandemic to subside before they return. But others resist taking the vaccine. They aren't returning because some companies are mandating COVID-19 vaccines.
The stress associated with the pandemic is still among people. First responders and health care workers are the two groups that experience it the most.
But those businesses that are short-staffed are putting additional pressure on existing employees to get the job done. When you have one person doing the job of three, the stress really builds. People are walking away looking for a job that offers less stress and more flexibility. Some individuals are just leaving the workforce.