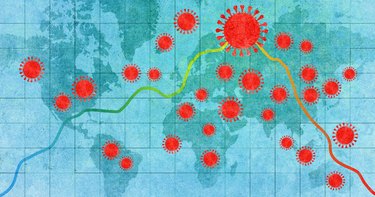 After some success fighting COVID-19 with vaccines, a new variant, omicron, has emerged and is now rapidly spreading throughout the world.
Although omicron is reported to have milder effects than COVID-19, it will nevertheless have a significant impact on the economy.
What Is the Omicron Variant?
The omicron variant was first reported in South Africa. It has a very high rate of transmission and spreads extremely fast. However, it seems to have milder effects than COVID-19, especially for anyone who has been vaccinated and received their booster shot.
However, it also appears that anyone with omicron can infect others, even if they've been vaccinated, had their booster shots and don't have any symptoms. Although the number of reported daily cases of omicron remains high, the rate of hospitalizations and deaths appear lower compared with COVID-19.
How Omicron Affects the Economy
As with the coronavirus pandemic, omicron is changing the way everyone works and lives and, in turn, affecting the world's economies.
Take the travel and hospitality industries as examples. Countries are blocking travelers from other countries, forcing people to cut back on their travel plans. Hotel reservations are declining, and cruise ships are canceling their trips. Americans should check with the Department of State before making plans for international travel to learn which countries have restricted entries.
Local governments are again imposing lockdowns in places where people gather indoors, such as restaurants, bars and gyms. As a result, people are canceling reservations at restaurants and parties. According to OpenTable, omicron is a major reason restaurant reservations declined 25 percent for the week ending Jan. 16, 2022, compared to the same period for 2019.
To make matters worse, individuals that have contracted omicron are quarantining themselves and not reporting to work, leading to labor shortages. To lessen the economic effects, the Centers for Disease Control and Prevention has reduced the quarantine period for asymptomatic individuals from 10 days to five days.
Omicron and the Supply Chain
We're already having issues with slowdowns and disruptions in supply chains, and omicron is going to make the situation even worse.
In mid-2021, the delta variant disrupted the supply of products as more workers got sick, especially in Asian factories. The rapid increase in omicron cases will make this situation even worse.
In addition, omicron is leading to a shortage of truck drivers and the labor needed to handle the products that are making it through the ports. This situation in the labor market is not likely to improve any time soon.
The problems with the supply chain are partially caused by inflation. Even with lessened demand for goods and services, the lack of supply and labor shortages are driving up prices.
Furthermore, the Federal Reserve Bank has stoked the fires of inflation by increasing the money supply to support the trillion-dollar pandemic aid relief packages from the Biden administration, like the stimulus checks and increase in child care tax credits. As a result, there are more dollars in the system chasing fewer quantities of supplies. The end result is the highest inflation rates in decades.
The Fed has signaled that it may begin to increase interest rates to slow down the economy and reduce the rate of inflation.
How Omicron Affects Economic Recovery
Although the U.S. economy is in better shape now than it was at the end of 2020, the omicron variant is nevertheless slowing down the economic recovery. Several prominent economists are lowering their economic forecasts.
Mark Zandi, Moody's chief economist, has lowered his projection for first-quarter 2022 growth in the U.S. economy from his previous estimate of 5.2 percent to 2.2 percent. He sees a slow down in credit card spending, an increase in airline flight cancellations, declines in restaurant reservations and schools going back to remote teaching.
Goldman Sachs has reduced its estimate of U.S. gross domestic product for the year 2022 from 4.2 percent down to 3.8 percent. Goldman has also lowered its estimate of China's economic growth from the original projection of 4.8 percent down to 4.3 percent.
The question is how long will omicron have an economic impact? There is some evidence that the initial outbreak of omicron in South Africa is already waning and that pattern may also happen in the U.S. The effects of Omicron on the economy will lessen as the number of daily new cases begins to decline.