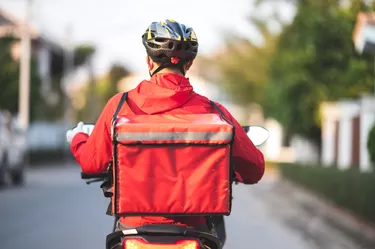 During the pandemic, shutdowns and stay-at-home orders prompted many consumers to give food delivery a try. But as the country returns to in-person dining, food delivery services are now seeing a decline, and rising gas prices and budget-conscious consumers are only adding to the problems.
For decades, consumers have enjoyed restaurant meals at home. Pizza delivery has long been widely available, but restaurants have also delivered directly to customers in big cities for years, as well. Thanks to technology, though, workers can sign up to act as couriers, picking up food at restaurants and delivering them to households, further expanding food delivery accessibility.
But there are some downsides to courier-based food delivery. Sure, it's easy to order food through an app and have it brought to you, but the delivery fees and tips can add up. For consumers who want to dine at home, direct restaurant delivery or picking up takeout themselves can be a much cheaper option.
Restaurant delivery has been growing in popularity for a while, starting in big cities like San Francisco and New York and expanding to suburban and even some more rural areas. But during the pandemic, food delivery apps surged in popularity, with 53 percent of adults saying that food delivery was a lifestyle essential.
But as restaurants began opening their dining rooms again, consumers rediscovered the joys of dining at local restaurants. At the same time, rising prices have consumers looking for ways to cut corners. Some delivery apps have offered free delivery to counter that, but savvy consumers know that many restaurants add surcharges for third-party delivery app orders, and the need to tip can even push cost-cutting consumers to opt for fast food or cooking at home.
Food delivery can be convenient, but there is some extra expense that comes along with it.
Staffing Shortages and Pricing
One of the biggest issues facing companies like Uber Eats and DoorDash is rising gas prices. There are also more delivery services than ever, giving delivery drivers the ability to shop around and find the one that offers the best deal. Added to this is the fact that the service industry has boosted pay rates, luring some drivers back to the work they left behind before the pandemic.
Some consumers have also caught on to the fee procedures of restaurant delivery services. You'll often pay more to get your favorite food from a nearby restaurant, but the problem is, those extra fees aren't listed at checkout. They're built into the menu prices on the app, so only if you compare what you pay when you order delivery from the app versus actual menu prices will you see the markups.
Overcoming Food Delivery Woes
Maybe you enjoy the convenience of sitting back while food is dropped at your door. If so, there are things you can do to get the best food without breaking the bank.
​Be informed:​ Sure, it's well-known that food delivery includes markups and fees, but this isn't the case across the board. Compare prices between the restaurant's menu and various delivery options to see where you can get the best deal.
​Eliminate the middleman:​ Some restaurants available on delivery apps also offer delivery direct to customers. Not only will this save money, but you'll also be supporting the restaurant by ordering from them.
​Look for discounts:​ Many delivery services routinely offer free delivery. You can also save by watching for restaurants offering specials to app delivery customers that week. It's a great way to reduce the extra costs.
​Pick it up yourself:​ This may be obvious, but you can save on delivery fees and markups by simply getting the food yourself. Many restaurants now offer curbside pickup for extra convenience, and all you'll pay this way is the menu cost, taxes and a tip.
Food delivery can be convenient, but there is some extra expense that comes along with it. Be aware of the extra costs you're paying and consider whether the fees and markups are worth it. When you're trimming your budget, it could be one extra expense that can easily go.