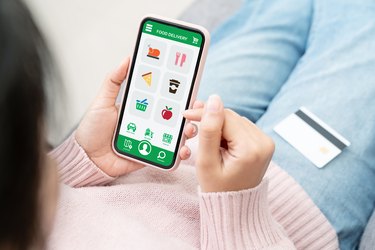 It was challenging to go to the grocery store during the pandemic. Home delivery became the solution to avoid going out for this vital task. Offering grocery delivery service became necessary for many grocery stores. Stores like Kroger, Walmart and Albertsons, who had started delivering groceries before the pandemic, saw this service explode.
Since Safeway, part of the Albertsons companies, had a grocery delivery service since 2001, they were ready to provide this grocery delivery service when the shutdown hit. They made it easy to go online and order groceries for delivery or pickup. But how do you go online and order from Safeway?
Signing Up for Safeway Online
Purchasing grocery delivery online can save money. When grocery shopping online, most people select only what they need. They don't usually make impulse buys as they would in the grocery store.
Safeway makes it easy to sign up for their grocery delivery. This saves time.
To sign up for delivery service, log into the Safeway website. At the top right is an area to login or sign up for the Safeway delivery service or pick up. You'll need to insert your name, email and address. If this is your first time, you'll need to establish a password.
Safeway makes it easy to sign up for their grocery delivery.
Schedule Safeway Grocery Delivery Time and Pickup
When you input your online order, the first thing you need to do is schedule the delivery time. Delivery windows can fill up fast, so if you want your Safeway grocery delivery on your schedule, check before you order online so you get the delivery time you want.
A delivery driver can bring your delivery order seven days a week. The delivery time is between 8 a.m. and 10 p.m.
Once you have scheduled your delivery time, you can start your grocery shopping. You'll be able to choose from different categories. Just click on them, and they'll be sent to your cart.
If your grocery order is going to repeat your last grocery order, you have the option to click "Past Purchases." Of course, you can still add or subtract from it, but it will save you time.
Once you have selected the items you want, you're ready to check out. At this time, you'll be able to use any promo codes. If this is your first order, use the promo code, "SAVE20" at checkout to receive free grocery delivery. Also, if this is your first time using home delivery, you can use promo code "FREE" at checkout as well.
Paper manufacturer coupons can't be used when ordering online for Safeway delivery service. But you can use Safeway U coupons for your grocery order.
When online ordering home delivery, you can leave notes for the Safeway employee shopper.
Safeway home delivery does have a delivery fee and a minimum order. There might also be a service fee for orders under $30 (the minimum order amount). You can sometimes get a discount on the delivery fee if you order within certain delivery windows.
There are other ordering options for Safeway home delivery. For example, you can use Safeway's subscription-based FreshPass program or a third-party service provider like Instacart.
FreshPass Membership Saves Fees
Safeway's FreshPass lets you enjoy home delivery and other perks. It's a subscription service, but you can try it out for free for the first 30 days.
For $99 a year or $12.99 a month, you'll receive unlimited free delivery. This applies to a minimum order of $30.
Safeway Instacart Saves Time
Instacart is a third-party delivery platform that Safeway has partnered with. Their delivery fees start at $3.99 but are based on the distance of home delivery from the store. The minimum order is $35.
Instacart has additional delivery fees such as heavy bag fees, alcohol service fees, service fees and others. The exact fees will be available when you indicate your delivery window.
Safeway DriveUp & Go Pickup Service
Safeway grocery pickup is an inexpensive, convenient option. Because you're picking it up, you save money. Safeway DriveUp & Go pickup service does not charge any fees. Tipping is not accepted.
It's still grocery shopping online. The difference is, that you order the groceries and indicate when you'll pick them up. Then, once you arrive at Safeway, call the number on the exterior sign and an associate will bring you the order.