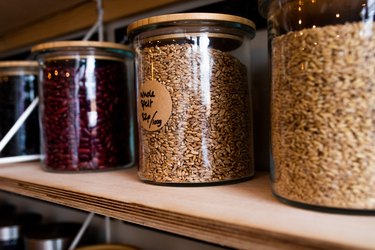 Online grocery shopping has seen a surge in recent years, thanks in part to pandemic-era shopping habit changes. Online grocery orders average ​$6.7 billion​ each month, compared to only ​$3.1 billion​ before the pandemic. If you're an Amazon Prime member, you can order groceries online for either delivery or pickup at a nearby Whole Foods location.
About Whole Foods' Online Ordering
​Grocery delivery​: For a service fee plus an optional tip, you can have groceries dropped off at your doorstep.
​Free curbside pickup:​ In many locations, you can show up at the store and park in a designated spot. Your groceries will be brought out to you and loaded into your vehicle.
​Free in-store pickup:​ If curbside isn't available or you simply prefer to go inside, you can schedule your groceries for pickup at a designated location in a Whole Foods store.
How to Order Groceries Online
Amazon Prime members can start grocery shopping at Whole Foods by visiting Amazon.com/Wholefoods. You'll also see a Whole Foods tab in the Amazon app. You'll need to input your ZIP code to make sure Whole Foods offers delivery service in your area or pickup at your favorite store.
Once you've input your location, you'll shop, picking out your items and adding them to your cart. At checkout, you'll choose a delivery or pickup time from the available options and either wait for your delivery or head to the store when it's time.
If you're an Amazon Prime member, you can order groceries online for either delivery or pickup at a nearby Whole Foods location.
Cost of Online Grocery Shopping
The best thing about Whole Foods' online shopping experience is that it's completely free. That means you pay no more to have someone else do the shopping for you than you would if you did it yourself. Whole Foods doesn't allow tipping for pickup orders, so between tipping and delivery, pickup is the most affordable.
If you find grocery pickup inconvenient, Whole Foods' grocery delivery service may be a better option. You will pay a ​$9.95​ service fee for each order, and tipping is allowed. If you plan to tip, add this to the service fee to decide if you have the budget for it.
Benefits of Ordering Groceries Online
If you like shopping at Whole Foods grocery stores, buying your groceries online can be a valuable perk. There are several benefits of shopping this way.
​Save time:​ Grocery store shopping takes time. Whether you choose online pickup or delivery, you'll regain time you can put toward other things.
​Two-hour delivery​: Amazon Prime's ​two-hour​ delivery will have groceries on your doorstep within ​two hours​ of ordering.
​Reduce impulse buys:​ Online shopping requires you to input the items you need in a search box. That means no wandering the aisles, picking up impulse items that run your grocery store bill upward.
Disadvantages of Ordering Groceries Online
Although it can't hurt to try out free online ordering, there are some disadvantages to note.
​Prime membership required​: To order Whole Foods groceries online, you'll need to have a Prime membership, which costs ​$139​ a year, and you still pay ​$9.95​ per delivery. By comparison, Walmart+ members get free delivery for only ​$98​ per year, and you can get free grocery pickup without any membership.
​Delivery fee:​ Although in-store and curbside pickup are free, you pay ​$9.95​ plus optional tip for each delivery.
​Minimum purchase required:​ For pickup or delivery, your total at checkout will need to be ​$35​ or more.
​Blind purchasing:​ Since someone else is doing your shopping, you'll lose the visual inspection you get in the store. Some people don't like being unable to choose their produce and meat.
​Substitutions:​ Your online shopping list will be filled with specific products. If those products aren't available, Whole Foods employees will make a judgment call based on the way they've been trained. That means you may find out that some of your items are unavailable or have been substituted with an item you don't like, leaving you with an incomplete shopping experience.
Whole Foods Market's online shopping option can be a much easier way to handle your grocery shopping. The best thing about it is that you can use it as much or as little as you want. If you're an Amazon Prime member, pickup won't cost you anything, but delivery will. Head to WholeFoodsMarket.com/Online-Ordering and click on "Shop With Prime."