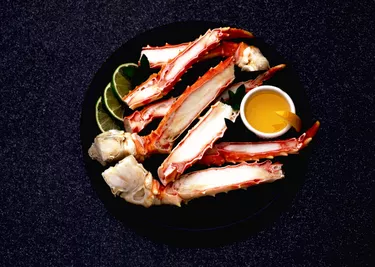 Many people just can't get enough of crab legs. Their unique flavor and texture has caused many people to fall in love with these seafood treats. But crab legs are no cheap date. Snow crab and Dungeness crab legs start out at about $12 to $15 per pound, and premium King crab legs can cost up to $60 per pound. But with a little effort, you can consummate your crab leg craving without breaking your budget.
Step 1
Stick to the smaller varieties. You will pay less for snow crab legs and Dungeness crab legs than you will pay for King Crab legs.
Step 2
Find a restaurant with an all-you-can-eat buffet that includes crab legs. These buffets are most often found at Asian and seafood restaurants. The buffets generally cost from $12 to $30 per person, but if you load up your plate with crab legs you will definitely get a bargain.
Step 3
Buy your crab legs by the case. Most crab legs are flash-cooked and frozen during processing and packed into 20-pound cases. Search for a local seafood market that will give you a discount for purchasing a whole case.
Step 4
Order your crab legs online. Many seafood distributors have websites that allow customers to purchase crab legs at prices that usually are lower than the local seafood market prices. The crab legs will be shipped to your home, usually overnight. Make sure to compare prices and shipping costs at the various websites to get the best deal.
Step 5
Buy the claws instead of the legs. Crab claws usually cost less than the legs because they are harder to crack open and contain less meat per pound than the legs. But for many people, the part of the enjoyment in eating crab legs is cracking them open.
Step 6
Buy "scraps" from online seafood distributors. Many seafood distributors give lower prices on scraps from the processing plants that actually consist of broken legs pieces, smaller legs, claws and shoulder parts. They are not as visually appealing as the whole legs, but the meat is of the same quality.