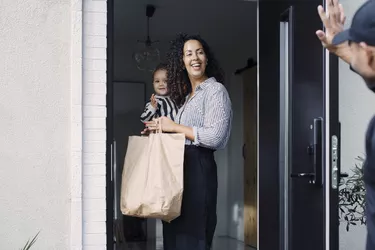 During the pandemic shutdown, restaurants weren't open to the public. But eating out was still on a lot of people's minds. That's where food delivery came into play. Delivery services like Uber Eats and Grubhub brought food from your favorite restaurant to your door.
DoorDash was at the forefront of food delivery service. But is ordering easy for the DoorDash customer? And what about those fees? How does DoorDash work?
Download the DoorDash App
The first step to ordering from DoorDash is to download the DoorDash app. A new DoorDash customer can use Android or iOS.
There are two DoorDash apps. One app is for the DoorDash customer and one for the DoorDash driver. The DoorDash driver is referred to as a dasher.
Once you've downloaded the DoorDash customer app, you can set up an account.
Creating a DoorDash Account
A new DoorDash customer must enter an email, password and phone number. The phone number is needed so that the dasher can communicate with you.
A delivery address must also be entered.
You'll have two options for receiving your delivery order from the dasher. One option is to have it hand-delivered to you. The other option is to have it left somewhere. This could be your porch or wherever you wish.
At this stage, you'll also be able to give any special instructions to your delivery driver.
The first step to ordering from Doordash is to download the Doordash app.
Once you have set up your DoorDash account, you'll move on to the next step in your delivery order. The DoorDash app will take you to the food page. This is where you'll find local restaurants and fast food.
Each restaurant will let you know the delivery fee and estimated wait time for that delivery order. You will also be able to filter out food. For instance, if you only want Chinese food, the filter will only show you that type.
Wait time can also be filtered out. If you're starving and don't want to wait an hour, choose fast food with a shorter wait time. You have the option.
You'll add your food items to a cart, and then you'll be able to review it.
Delivery Fees and Service Fees Apply
Once you've chosen your food, you'll move on to check out. If you have a promo code, this is where you will enter it. You'll also be able to enter any gift card that you have. It's also where your food delivery fees kick in.
You, of course, must pay for the food, but DoorDash has delivery fees. Although new customers with a first-time order receive a break, DoorDash customers are subjected to several fees for their food delivery.
There is an order or service fee. This is based on a percentage of the sale. So if your order runs less than ten dollars, there is a small flat fee. There is also a delivery fee that's in addition to the service fee.
If you order often, you might want to purchase a DashPass. The DashPass is a flat fee that you pay monthly for food delivery. The charge is $9.99 per month, and you can cancel at any time. If you purchase the DashPass, you won't incur delivery fees per delivery order.
Tipping and Rating Dasher
Once you have gone through the delivery fees at check out, you'll have the opportunity to tip your DoorDash driver. This is in addition to all the delivery fees.
After you tip, you'll use a credit card or debit card to pay.
You'll also have the opportunity to rate the dasher. Dashers are reviewed by DoorDash based on their customer rating.
Track Food Delivery Progress
Once you have ordered and paid for your food delivery, a map will come up. There are icons on the map that will show the food's progress in real-time. It will let you know when the DoorDash order has been prepared and is with the dasher. In addition, the map will let you follow your delivery driver's route and alert you when they are near.
DoubleDash New Delivery Service
DoorDash has just rolled out the DoubleDash delivery service. From grocery stores to convenience stores, you'll be able to enter multiple orders into the DoorDash app. This adds even more convenience to home delivery.