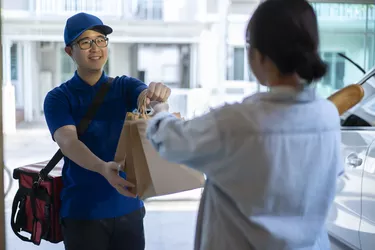 The convenience of take-out is attractive. But it's even better when a delivery person brings the food directly to your address. A food delivery service is the best way to eat restaurant food at home. Some of these include Grubhub and DoorDash.
Uber Eats is a delivery service many people turn to when hungry. Knowing how to order food from it can save frustration and allow you to eat sooner.
Download the Uber Eats App
Although you can use a desktop computer, if you have a smartphone, the easiest way to place an Uber Eats order is to download the Uber Eats app.
You can go to the Google Play Store with your Android or use your iPhone to download the Uber Eats app from the app store.
From there, it's easy to place an Uber Eats order.
When you order from Uber Eats, you'll be able to write notes to the restaurant you order food from to give them any special instructions.
When setting up your app, you'll first want to put in any promo code you have. Then go to the "home" tab and enter the delivery address you want to use. Although Uber Eats can track you through GPS, it's always best to put your delivery address in the Uber Eats app.
There's also a place to enter any special instructions to the delivery person. For instance, if you're in a gated community, you might want to enter the gate code.
Under "saved places," you can save multiple addresses. For instance, you might want your work and home address. At the bottom, it reads when you want your Uber Eats order. It can be ordered ASAP or scheduled up to a week from the order.
Once you have established your Uber account, it's time to input your delivery order.
You'll see a selection of options, from local restaurants to fast food, like McDonald's. The restaurant you order food from will have a menu and the estimated time it will take to prepare your favorite foods based on current demand.
When you order from Uber Eats, you'll be able to write notes to the restaurant you order food from to give them any special instructions. For instance, if you don't want the special sauce on that tofu rice, enter that into the instructions.
The way Uber Eats works is once you order your food, you can still add to it before you check out in the payment area. So, when you use Uber, you don't have to worry about changing your mind later.
There is an additional place to give instructions to the Uber Eats driver. You have three choices when it comes to your delivery order. The food can be brought to your door; the Uber Eats order can be left at your door or you can go curbside to the driver's car.
You must also click on whether you want the restaurant to provide utensils or straws with your delivery order. If you don't ask for these, they will not be provided.
Delivery Fees and Service Fees for Uber Eats
When you go to check out, a few fees await you. First, you have the subtotal. This is the straight cost of the food.
Then you have a service fee. This is what Uber Eats charges for their service. These changes are based on the cost of your food. But generally, it's 5 percent.
After the service fee comes the delivery fee. This can vary based on the distance between your delivery address and the restaurant. You'll know this charge before you order. And at this point, you can enter a tip for the delivery driver.
You'll have the opportunity to change your order at this step. You'll be sent back to the restaurant section if you choose to do this.
The payment method can be a credit card, debit card or PayPal. You can also use any gift cards.
Once this is complete, click "place order."
After you place the delivery order, you'll see an icon for the restaurant that will track your food preparation in real-time. It will let you know if your food order is on time, running late or running early.
Once the delivery driver picks up the food, you'll be able to track their progress to your delivery address on a map. In addition, there is an icon that allows you to message or phone the Uber Eats driver. At the bottom of the Uber Eats app is the first name of the driver and their vehicle's make and license number.
Once you have received your delivery, you'll be asked to rate the Uber Eats driver. The delivery driver must maintain an 85 percent rating to continue to drive for Uber Eats.