If you work during normal business hours, you likely have felt the frustration of arriving home to find that "Sorry we missed you" sticky note on your door. Generally, this means a delivery service would have left the item at your door, but it required a signature. The United Parcel Service (UPS) offers this perk to shippers who want to make sure the package gets in the right hands at a cost of a few extra bucks, but often they'll skip it unless the item has a high value. But when that happens, you'll be forced to drive to the nearest pickup center unless you know you'll be home the next time UPS tries to drop off your order. It can help to know ahead of time that a signature will be required so that you can make arrangements.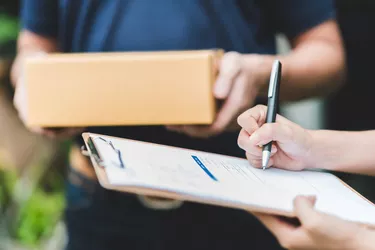 Verify Shipment Method
The best way to determine how your UPS package was shipped is to review any emails you've received from the sender. There may be something in the email that indicates what shipping options were chosen. If not, take a look at the UPS tracking page. If that reveals nothing, consider calling UPS to ask.
There are some items that by their very nature merit signature confirmation. UPS requires alcohol and firearms to be shipped using Adult Signature Required, which is slightly more expensive and will mean someone 21 and over must be home to sign. If the item being shipped required a high-dollar transaction with a stranger, the sender is more likely to have put signature confirmation in place to have proof that it not only arrived, but someone in your household signed for it.
Other Options
Even shipping services are aware that their delivery windows conflict with the average consumer's daily schedule. At one time, recipients worked around the issue by having packages delivered to their workplace, but online shopping has led many employers to prohibit that. Instead, delivery services themselves have come up with workarounds for those who work 9 to 5.
For UPS, this convenience is provided through MyChoice©, a service that lets recipients schedule their delivery times in advance. If you choose this service, you can authorize someone else to sign for you or redirect your package to a UPS customer center. UPS Access Point ™ lets you authorize your packages to go to a nearby spot with longer business hours, such as retail stores. In some cases, you'll be able to either sign in advance or at the location, but be aware that some shippers will direct packages to only go to a recipient's home.
If you're eagerly awaiting a UPS shipment, you don't have to wait at home for days. Using a combination of services, you can find out in advance exactly when your package will arrive and whether you'll need to be home when it gets there.