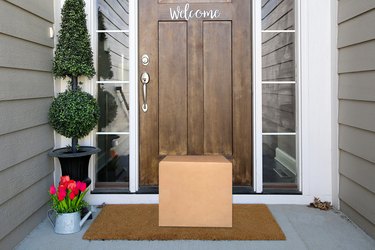 Established in 1907, United Parcel Service delivers more than 20 million packages and documents daily in the U.S. and to more than 200 international destinations. The company lets you print a prepaid shipping label on your own printer before you dispatch your parcel. You can even use a mobile device to create a UPS prepaid label.
Required Hardware and Software
UPS prepaid labels require a desktop computer, laptop or mobile device that has an Internet connection. You create the label through an online portal, so computer users won't need to download any software.
Windows computer users must have at minimum Windows 7 with SP1, Windows or Windows 10. The UPS minimum operating system requirement for MacIntosh and Apple computers is at least OSX 10.11
Browsers that work on the shipping portal include Chrome 49.x or above, Firefox 45.x and above, Safari 9.0.x and newer. UPS users who have either Microsoft browser will need Edge version 12.x or Internet Explorer 9. You'll need to disable pop-up blockers for the website to function properly. Enable JavaScript and cookies for best results.
Register to Create a UPS Prepaid Label
Although UPS doesn't require you to have an account number, you can easily register as a MyUPS user when you use the portal for their prepaid labels. You'll choose your user ID and password, after providing your name, email address, street address and a phone number. After you complete your registration, you can log in to your new account. Storing shipping and recipient addresses in MyUPS account makes future shipping tasks very convenient.
MyUPS Online Shipping
To create a prepaid UPS label, select Shipping on the main section of the UPS website. Then, select "Create a Shipment" to enter the online shipping portal. Choose Package (unless you're shipping freight). UPS prefills the shipper address with the information that you provided when you registered.
You'll provide a recipient and address, then select the type of packaging you'll use. You may use your own or UPS packaging, including UPS envelopes. To complete the shipping label for your own packaging, enter the weight, height, length and width of the package. You'll also need to indicate the value of the package.
Then choose the type of service you want. Click the "compare costs" link to see the estimated cost for each type of service. The pop-up also displays approximate delivery times, a list of additional free services and fees for special services. Next, you will choose a payment method. UPS online shipping accepts major credit and debit cards and PayPal.
Customer Drop Off or UPS Pickup
At bottom of the payment screen, you have the option of scheduling a package pickup for a fee. Check this box if you want UPS to send a driver to get the package. Otherwise, leave the checkbox blank. After you review all of the details, your label will be ready to print.
Use Guest Shipping to Create a Shipment
If you only need a one-time or infrequent UPS prepaid label, you can create the label as a guest, without registering at UPS. Visit the UPS "Shipping Needs: Get Started with UPS" page. Use the "Infrequent" shipping tab to get started and provide the information your UPS prepaid label or UPS prepaid envelope.
UPS Mobile Apps
Download the UPS app from the iOS or Android app store. The Android app is available for phones and tablets running Android 4.2 and higher. The iOS app supports the iPhone 4 and higher, the 5th generation iPod touch and iPad 2 and later devices.
Mobile users can use their devices to print a UPS prepaid label or create a digital one. The mobile apps let you generate a barcode on your device. To use this option instead of printing, choose "Mobile Scan" from the app's mobile shipping menu. Take your device to a UPS location and allow the associate to scan the barcode to print your prepaid label.