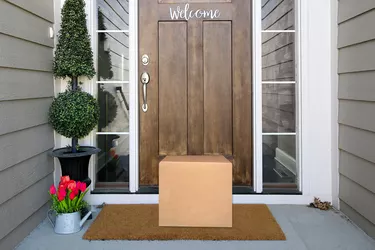 There are a lot of uses for a shipping label. Some people need return labels to send items back to online retailers, like Amazon, and others have to create a shipment to fulfill an order from a customer. Can you print shipping labels at home or buy UPS shipping labels that you can use later? Learn how to make fewer trips to the UPS store and easily access shipping services as well as how to find drop-off locations and how to handle other interactions with UPS.
Getting a Prepaid UPS Shipping Label
UPS, short for United Parcel Service, makes it as simple as possible to get a shipping label, tracking number and everything else you need to send your package. You can access many of its services on its website, ups.com:
To obtain a shipping label online, UPS explains that you'll begin by clicking on "Create a Shipment" from the Shipping tab on the home page.
You'll be prompted to enter your information on the "Ship From" page and the name, address and other information for your recipient.
The UPS website will ask you to provide information about the package, including shape, dimensions, weight and contents.
Once you select the type of shipping (priority mail, next-day air and so on) and pay, you can print your address labels, which include unique barcodes that tell the UPS driver what to do with them.
Shipping Options for Your Package
Creating, printing and attaching your shipping documents doesn't get your parcel on its way. You must schedule a UPS pickup or take the package to a drop-off point. UPS mailboxes and drop points are very convenient for small businesses, particularly those with a lot of ecommerce and domestic shipments.
The click-n-ship option is also convenient for people who can't get to a shipping store or post office. UPS will pick up your package for you at your home. All you need to do is leave it outside. Some fees may apply. You have several other options for shipping from the UPS website. You can usually select rush shipping, insurance and guaranteed delivery dates or save money with other customizations.
UPS has a program called Simple Rate, which allows you to purchase prepaid UPS shipping labels in a manner similar to the USPS shipping labels for flat rate boxes. Buy a box or envelope, fill it out and send it for a flat rate. It's one of the easiest ways to ship with UPS. FedEx has a similar program as UPS and USPS that allows you to purchase prepaid shipping labels from them as well.
Other Information About UPS
​UPS is not the same as USPS.​ Despite their similar names, UPS is a privately owned business that is not affiliated with USPS. UPS is the service affiliated with the large brown trucks, but it also sells packing materials, cards and printing services. UPS also offers Amazon returns drop sites, but you'll need to check your local store's website to confirm.
​You can schedule UPS home pickups.​ UPS also does home pickups for prepaid shipping labels and boxes, and you can schedule a pickup time on its website. You affix the appropriate shipping label and leave the package outside in a prominent or specified location. A UPS driver adds the pickup to their route, and the parcel is on its way.
​The Federal Trade Commission can help.​ If you order something online and don't receive it, the Federal Trade Commission provides some helpful tips on how to handle it.
​Shipping labels and tracking numbers are key.​ If you run a business and a customer needs to return something to you, you can help them generate a return shipping label from your shipment history. Thanks to shipping labels like these, there are often tracking numbers included with some types of shipments that are almost always available to recipients. If you want to receive notifications from UPS about your shipment, select that option before completing your transaction.