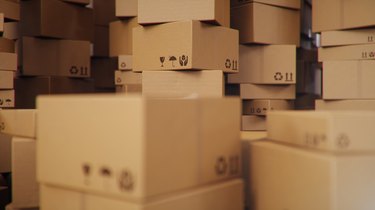 Whether you're receiving a package or you're doing research to find cheap shipping companies for your needs, you'll find UPS Ground as a popular service for sending packages domestically. Since UPS Ground uses trucks and trains to move packages rather than planes, it tends to take longer for cross-country shipments than alternatives like USPS Priority Mail, but the exact time will depend on the origin and destination, pickup time and various factors that can lead to delays. Take a look at what you should know about the typical UPS Ground shipping time and how it compares to other UPS delivery services.
Typical UPS Ground Shipping Time
The UPS Ground shipping time can range between ​one and five business days​ depending on how far the package has to travel and whether the shipper pays extra for weekend delivery. The service typically runs Monday through Friday. So, if your package ships close to the weekend, you can expect to wait longer unless the shipper upgrades to weekend delivery.
Although you can get a clearer expected delivery date if you use the UPS shipping calculator or consult the UPS Ground maps, UPS provides some rough guidelines on how long a package may take to arrive based on region. Generally, if you ship a package in a particular region such as the Northeast, it might come within ​one or two days​ if sent to nearby states in that same region. This stretches to ​three or more days​ to other parts of the U.S. like the Northwest, Midwest or Southeast.
UPS will guarantee a deadline delivery day and allow you to track the package online to see various steps through the system. If something comes up where UPS can't deliver on time, then you'll see an exception noted and possibly some instructions if you need to take action.
UPS Ground Shipping Time Delays
While you can generally expect the given delivery date to be accurate, poor weather conditions or driver problems that disrupt the UPS service, problems with the recipient's address or the inability to collect a required signature could push delivery a day or more later. Further, natural disasters in other parts of the country can cause slowdowns. The UPS provides a page alerting customers of potential service alerts. Making sure to provide correct shipping info and being available to sign for a package can prevent some delays.
Comparison to Other UPS Services
If the estimated UPS Ground shipping time seems too long, then you can consider other domestic UPS services that might work. For example, you may pay extra to have the package sent with UPS 2nd Day air to get delivery within ​two days​ or UPS Next Day Air Saver to get it delivered the next day. You could also opt for morning delivery with either service for an extra fee.
Since these options have a much higher price than ground, you might also consider the mid-range option called UPS 3 Day Select. This service delivers within ​three days​ with less of a price jump.
Shipping UPS Ground Packages
If you're shipping a package and want to determine whether you want to use UPS Ground or another service option, use the "Calculate Time and Cost" tool on the UPS website for a price and delivery date comparison. Once you've decided on a service level, you can purchase and print the UPS shipping label from the company's website or go to an authorized shipping center – such as a UPS Store – that offers UPS services.
If you buy the label through the UPS website, then you can either have the cost billed to your account or just use a credit card without an account. You can call UPS or go online to schedule a pickup for a fee if needed, or you can drop it off at an authorized location or dropbox.