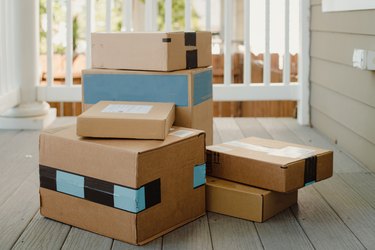 Whether you're looking to ship through the regular USPS or go through a company like FedEx or UPS, you'll have multiple shipping options to consider that differ in terms of pricing, restrictions, speed and transportation methods. The economy ground shipping option involves having your package transported with trains, trucks and other vehicles that travel on land versus with an airplane as with air shipping.
While going with this option could save you money, you often have to deal with a longer transit time. Here's what you should know about economy ground shipping and your options through major carriers.
Economy Ground Shipping Meaning
When you use economy ground shipping, you can expect the entire transportation of your shipment to travel on land. This means it can take five to seven days or even longer for your item to reach its destination within the U.S. However, the actual time in transit will depend on the distance between the origin and destination, the shipper and service used and any service delays that occur along the way.
Since there's no air transportation involved, you'll find that economy ground shipping comes at a lower price, and this makes it particularly appealing for shipping heavy items a far distance.
You can use this more affordable shipping option for a variety of items. Since the Federal Aviation Administration places restrictions on the types of goods that can travel through air transportation, economy ground shipping offers more flexibility for hazardous shipments. For example, chemicals often need to be shipped with a ground service for safety. Special items like live animals and large furniture also usually ship using ground service.
Since there's no air transportation involved, you'll find that economy ground shipping comes at a lower price, and this makes it particularly appealing for shipping heavy items a far distance.
Exploring Economy Ground Shipping Options
Here are some domestic economy ground shipping services offered through major carriers:
​USPS​: The USPS offers economy ground shipping with its Parcel Select and Retail Ground service options. While Retail Ground is geared toward typical consumers, Parcel Select is more for businesses that ship several items. These options can take between two and nine days and offer Saturday delivery, unlike some other shipping companies do for their economy ground services. You can send packages up to 70 pounds with these USPS services.
​FedEx​: This major shipping company offers FedEx Ground Economy, FedEx Ground and FedEx Home Delivery. Used by businesses, FedEx Ground Economy has a delivery time of two to seven business days, delivers seven days a week and has a package limit of 70 pounds. Designed for packages shipped to business addresses, FedEx Ground has a transit time of one to five business days for most domestic locations, has a package weight limit of 150 pounds and operates Monday through Friday. Finally, FedEx Home Delivery is for private residences, has a 150-pound weight limit, operates seven days a week and delivers within one to five days to most places.
​UPS:​ Popular economy ground shipping options through UPS include UPS SurePost and UPS Ground. Designed for small packages weighing up to 10 pounds, UPS SurePost takes two to seven days for most places, runs Monday through Saturday and usually uses the USPS for the last leg of the delivery. UPS Ground supports packages up to 150 pounds, runs Monday through Friday and takes one to five days in most cases.

Deciding to Use Economy Ground
You'll want to consider the pros and cons of economy ground shipping to determine if you should use it over another option like air shipping. When using this option, you can benefit from a lower shipping cost and still have the ability to track packages as with more premium services.
It can serve you well if you have a package that's not time-sensitive or when what you need to ship is bulky or in a category that has a lot of restrictions under air shipping. However, the tradeoff mainly comes with the potentially longer time in transit, and this can create an issue when the shipment is urgent or perishable.