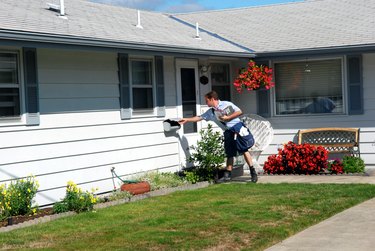 When sending something by first-class mail doesn't fit your needs, the United States Postal Service provides additional services that can get the item to its destination faster and allow you to follow its progress. Priority Mail takes between one and three business days to arrive, depending on the distance between the item's origin and destination, and it comes with a tracking number you can use to make sure it gets there.
Day-specific Delivery
The Postal Service offers day-specific delivery for Priority Mail. When you drop off your letter or package, you will receive an estimated delivery date that takes into account both the origin and destination of the mailing. Longer distances mean it will take longer for the recipient to get what you mail. That date isn't subject to negotiation. If you need the item to get to its destination overnight and the destination address isn't nearby, you'd need to upgrade to Priority Mail Express. The latter service also offers guaranteed delivery on the promised date, with a refund offered if it arrives late. Priority Mail does not provide a refund if it misses its window.