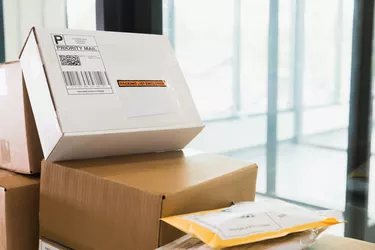 Whether you're sending or receiving a package or letter, the United States Postal Service is a popular option for both standard and expedited mail. Alongside the First Class Mail option that takes up to five days and Retail Ground that delivers within eight days, USPS offers two Priority Mail products for when you need quicker service. Depending on which option you choose, your domestic mail delivery time could range from the next day to three days later.
Domestic Priority Mail Delivery Times
USPS says that Priority Mail provides you with ​one- to three-day​ delivery based on the postal service's business days, mailing time and destination. This option includes free Saturday delivery for convenience, but you won't get a regular Priority Mail package on a Sunday or recognized holiday. In addition, your estimated delivery date isn't guaranteed, so the postal service doesn't refund you for a late package.
If you're looking for something faster, you could go with USPS Priority Mail Express, which guarantees delivery either the ​next day or second day.​ USPS mentions that this more expensive mail service runs on holidays and Sundays too, and the latest guaranteed time is ​6 p.m.​ on the second day. If your mail carrier doesn't deliver the item on time, USPS lets you request a postage refund.
For either option, consider that the distance between the sender and recipient affects the shipping time. For example, if you're sending a USPS Priority Mail large envelope from Ohio to Hawaii or Alaska, that should take longer than sending the same package to Illinois or New York. Sending mail to rural areas takes longer when using snail mail as well.
International Priority Mail Delivery Time Frame
Since USPS supports most countries, its services are a good choice for sending mail overseas and getting tracking along the way. USPS offers Priority Mail International with an estimated delivery time of ​six to 10 business days​. You can consider Priority Mail Express International for faster service within ​three to five business days​ and get a guarantee depending on the destination country.
In either case, be aware that delivery times can vary from country to country and that delays can happen due to customs issues. The USPS also cautions that the pandemic has affected mail service in some locations.
Calculating USPS Mail Delivery Times
You might wonder, "How long will this piece of mail take using Priority Mail?" The USPS website has a simple delivery map that lets you enter the shipper's ZIP code and then see a map with the number of days for each state. For example, the map shows that a package sent from Los Angeles would take two business days to reach Chicago and three days to reach Tallahassee, while local mail would take one day.
You might want something more specific to answer a question such as, "How long does First Class Mail take versus Priority Mail or an economy service?" USPS lets you compare shipping times and prices for different mail services using its postage price calculator.
Along with detailing the package type (such as flat rate or custom), specifications and delivery service, you'll enter information about the shipping location, time and date as well as the recipient's ZIP code. You can then explore prices and delivery times for different mailing options.
Planning for Varying Delivery Times
If the package uses regular Priority Mail, consider that you may have to wait an extra day or two for your piece of mail if it's in transit on a Sunday or holiday. In addition, natural disasters, unforeseen circumstances or lost mail items could affect mail delivery. On the other hand, USPS says a PO Box could speed up delivery times, so your package could arrive earlier within the service's window.
You could experience a longer shipping time if the package uses a special add-on service. USPS cautions that the security protocols required for Registered Mail can mean a longer time frame for delivery. On the other hand, even a signature confirmation could mean a delay if nobody is available to sign for the item.