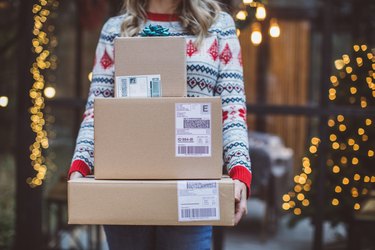 Each year, the United States Postal Service issues a list of deadlines for shipping packages. But like last year, Christmas 2021 finds consumers in unusual times. Due to supply and personnel uncertainties, you can't go wrong by getting started with your holiday shopping early this year.
If you're shipping by USPS, the postal service has given ​Dec. 23​ as the absolute last day for shipping items, and that's for Priority Mail Express. If you're sending via Priority Mail, the deadline is ​Dec. 18​, and it's ​Dec. 17​ for first class. Retailers using USPS Retail Ground Service should ship no later than ​Dec. 15​.
With all those dates in mind, it's always a good idea to start early, especially if you're doing online shopping. You'll likely experience slowdowns in getting your items, as well as shipping them to your loved ones. If you're shipping them directly, staffing and supply chain shortages could force delays and cost you more for expedited shipping.
New USPS Service Standards
The ​2021​ USPS holiday shipping deadlines aren't all that different from those that were established for ​2020​. But that doesn't take into account the new USPS first-class mail standards that were announced earlier this year. The USPS estimates that ​61 percent​ of first-class deliveries won't be affected, but the other mail will be slowed down by a day or two.
If you're mailing packages, it's also important to pay attention to issues that can come up along your package's route. Staffing shortages have caused backlogs at distribution centers like the one in Raleigh, which resulted in packages lingering for days. The slowdown just serves as a reminder that unexpected issues could crop up.
Alternatives to USPS Shipping
Of course, USPS isn't the only game in town. In recent years, many consumers have turned to UPS and FEDEX for more reliable shipping. These are pricier options, typically, but if you need something to get there overnight, these are typically your ​two​ most reliable services.
FEDEX's 2021 shipping deadline schedule ranges from ​Dec. 9​ for economy to ​Dec. 24​ for FEDEX Same Day. For FEDEX Ground, a reasonably affordable option, you'll need to ship by ​Dec. 15​. With the UPS ​2021​ shipping deadline schedule, you can ship all the way up to ​Dec. 23​, but for UPS Ground, the site directs you to the shipping calculator page since delivery times vary widely depending on the origination and destination.
2021 Holiday Shipping Costs
Often, holiday shoppers choose USPS for packages due to the lower rates. However, for ​2021​, that might not be the case. USPS has approved a temporary price increase, effective ​Oct. 3​ through ​Dec. 26​, with price hikes ranging from ​$0.25​ to ​$5​, depending on the zone.
For certain package sizes and destinations, UPS Simple Rate might be the best way to go. For Ground, you'll pay ​$8.80​ to ​$22.85​ depending on the package size. FEDEX One Rate has package pricing ranging from ​$8.90​ to ​$32.35​.
2021 Christmas Shipping Tips
As always, the best way to avoid paying extra for express or overnight services is to start shopping early. Supply chain issues make that more the case than ever in ​2021​. Make sure you build in at least a few extra days to account for unexpected delays. This is more likely to happen the further you wait in December to ship.
Another consideration with services like UPS and FEDEX is that if you have a UPS Store or FEDEX Office nearby, they'll box everything up for you. You can simply take your wrapped packages to the location, pay and have the reassurance of knowing that everything will be professionally boxed to ship in the smallest applicable package allowed.
The ​2021​ holiday shopping season will certainly have its challenges. But all major carriers have pricing estimators on their websites, so you can easily comparison shop to make sure you're getting the best deal on the transit time that meets your needs.