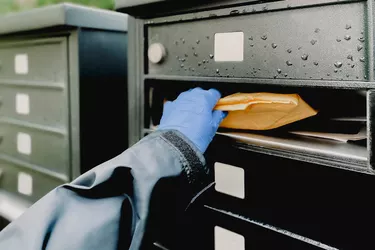 Popular for its fast delivery times and more economical pricing versus similar options from other shipping companies, USPS Priority Mail handles both domestic and international shipping needs. While many of the features are the same, this mailing option comes in two versions where you either pay based on the package weight and destination or you pay a flat rate regardless of those factors.
So, the main difference between flat rate and Priority Mail comes down to pricing. Take a look at what you can expect with these Priority Mail options and the important differences to note.
Looking at USPS Priority Mail
Regardless of whether you decide on flat rate or standard pricing, Priority Mail will still get your package to a domestic destination in usually ​three days or less​ and to an international destination within ​10 business days​. However, the service doesn't come with a guarantee for these times. Since the USPS delivers domestically on Saturdays without an extra charge, your package may arrive sooner than it would if you used a carrier with weekday-only delivery.
The USPS covers the ​first $50​ of insurance with this mailing service for domestic deliveries and between ​$100 and $200​ for international shipments. It also charges nothing extra for the tracking feature you can access on the USPS website, and customers can have the postal worker pick up a Priority Mail package during daily mail delivery for free. The USPS places a ​70-pound​ weight limit on most Priority Mail packages, although international shipments have lower limits when you go with the flat rate option.
Flat Rate and Priority Mail Differences
A key difference between flat rate and Priority Mail lies in what you pay. If you were shipping a regular Priority Mail shipment in your own packaging, the USPS would charge you based on your item's weight and the destination zone or country. If you use the special flat rate envelopes and boxes from the USPS, then the USPS will just charge a set price based on the specific type of Priority Mail Flat Rate packaging you use – regardless of the destination and weight.
You can consult the postage price calculator to see the price difference between flat rate and Priority Mail based on your package's characteristics.
As of publication, a non-business customer buying postage online or at the post office could use a Priority Mail Medium Flat Rate box for a domestic shipment to any state and pay just ​$15.50​ even if the package weighed 70 pounds. The same 70-pound package using the regular Priority Mail pricing could cost anywhere from ​$49 to $317.25​ depending on the destination zone. On the other hand, if the package only weighed a pound, the regular rates would vary from ​$7.70 to $16.85​, while someone using the Priority Mail Medium Flat Rate box would still pay ​$15.50​.
Therefore, you should carefully consider your Priority Mail package's destination and weight to determine which option makes sense. You can consult the postage price calculator to see the price difference between flat rate and Priority Mail based on your package's characteristics. You'll also want to make sure your item can fit in one of the flat rate packaging options, or else you may have to go with your own package and standard pricing.
Purchasing Flat Rate vs. Standard Priority Mail
Besides having to use the special flat rate boxes and envelopes the USPS provides versus your own packaging, you won't find much of a difference between flat rate and Priority Mail when it comes to the actual shipping process. You can still get labels for these packages online through the USPS website or affiliated shipping sites or in person at a postal location. Further, flat rate boxes are available at the post office or USPS website.
One difference, however, lies in the need to weigh packages if you're not going with the Priority Mail Flat Rate option. The USPS also asks for the dimensions if you use your own packaging, so there's a little extra work with that option.