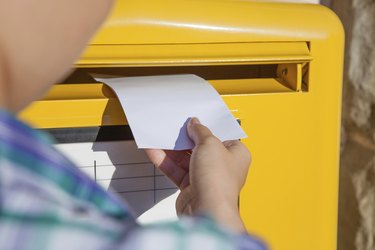 Both U.S. Postal Service Priority Mail and Priority Express Mail get your items to their destination quickly, and both offer features like tracking numbers and a standard level of insurance. The main differences between the two are delivery times and dates. Priority Mail Express gets your letters and packages there faster and can deliver seven days a week, but you'll pay extra for those services.
Priority Mail
Priority Mail will get your letter or package to its destination within three business days, depending on how far it's going. The Postal Service provides day-specific delivery, and you'll get an estimate of how long it will take when you drop off your mail. You don't get to choose the day within that span, however; the speed of delivery and price tag both depend on how far the package is going. As long as what you're mailing weighs less than 70 pounds, the cost is not influenced by weight. Delivery is made Monday to Saturday, excluding federal holidays.
Priority Mail Express
Unlike Priority Mail, Priority Mail Express offers overnight delivery to most domestic addresses. It will even deliver overnight mail to post office boxes -- the lone overnight mail service permitted to do so. Priority Mail Express deliveries are made 365 days a year, though delivery on Sundays and holidays costs extra. Delivery by Priority Mail Express also comes with a guarantee that the item will get there on the day promised. If not, you'll get your money back. The regular Priority Mail service does not come with that guarantee.