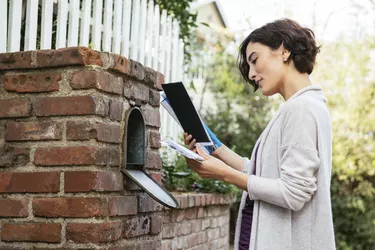 When you're exploring cheap shipping companies for a letter or package that needs a quick delivery, you'll probably come across the U.S. Postal Service (USPS) as a popular choice. The Priority Mail and Priority Mail Express services stand out as reliable mailing options that can get the package to a destination within the U.S. in up to ​three days​. They also support international shipping with add-ons available like Certified Mail and Restricted Delivery.
When comparing Express Mail vs. Priority Mail, you'll find some differences when it comes to pricing and the speediness of delivery. Here's what you should know about both options to determine which to use for your parcel or letter.
Features of Express Mail vs. Priority Mail
If you're deciding between Express Mail vs. Priority Mail, keep in mind that you can have a Priority Mail Express package delivered as quickly as overnight and get a two-day guarantee for other packages, so this can be the best option for urgent shipments if you don't mind paying a premium price. Further, such shipments can get delivered even on holidays and Sundays if you pay extra. In contrast, Priority Mail packages can arrive within ​one to three business days​, so this service is a more economical option for important but less urgent deliveries.
Besides the price and delivery speed differences, these USPS services offer much of the same features but sometimes with slight variations. Both come with some automatic insurance (​$50​ for Priority and ​$100​ for Priority Express), offer free pickup and allow you to track the package online (with signature confirmation included for Priority Express). The USPS sets a maximum package weight of ​70 pounds​ and a dimensional limit of ​108 inches​ for the combined girth and length for both options.
If you'd rather not use your own packaging and don't want to have to worry much about measuring, you can also choose from various flat-rate envelopes and boxes. You'll find that Priority Mail offers a wider selection of these items than Priority Mail Express.
Regardless of the shipping origin and destination, using Priority Mail costs considerably less than Priority Mail Express.
Pricing of Express vs. Priority
Regardless of the shipping origin and destination, using Priority Mail costs considerably less than Priority Mail Express. Pricing for both USPS services will vary based on whether you choose the regular or flat-rate method along with the package size, weight, postal zone and postage purchase method. Going with the flat-rate option can save you money on heavier items as long as the envelope or box size works for your shipment, while commercial customers pay slightly less versus those who buy postage online or at the post office.
As of publication, a typical noncommercial customer shipping a Flat Rate envelope domestically would pay ​$7.95​ for Priority and ​$26.35​ for Priority Express. On the other hand, the same customer shipping their own box weighing a little over three pounds would pay anywhere from ​$9.05 to $35.80​ for Priority Mail and ​$27.55 to $82.40​ for Priority Mail Express depending on the U.S. shipping destination.
You can add more money for extras like fees for higher insurance, Certified Mail or a return receipt. You can get the exact pricing for your specific letter or parcel if you use the USPS price calculator.
Shipping Express and Priority Packages
Whether you're shipping Express Mail vs. Priority Mail, you can obtain your postage and any flat-rate mailing materials either through the USPS website's Click-N-Ship tool or a local postal office. If you buy the postage online, you will need to weigh and measure the packages first unless you're using a flat-rate envelope or box. You'll then get a label and the option to schedule a pickup. Otherwise, you can visit a post office where a representative will handle the whole shipping process for you.