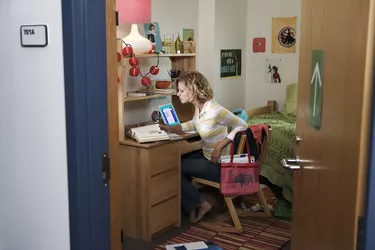 As a resident adviser, you serve as a leader and mentor in your campus community. Overseeing students who live on campus, you create and implement residential life programs for students and address any conflicts or concerns. Landing a position as an RA can be competitive, so your resume needs to speak to your qualifications. You can express your interest in an RA position and summarize your qualifications in the objective at the top of your resume.
Campus Participation Objective
If an RA position is appealing to you because it keeps you involved in campus life, then tailor your objective accordingly. This objective will be particularly convincing if you have already established yourself as an active member of your campus community. For example, this objective could state: "To serve as a resident adviser to give back to my campus community, interact with fellow students and represent my campus well."
Leadership Objective
Resident advisers are leaders on campus and, specifically, in the residence hall in which they live and work. Leadership skills are valuable as you enter the workforce, so an RA position can be a valuable one. Focus your objective on the leadership opportunities associated with being an RA -- and mention any relevant leadership experience you have. For example: "To continue my role as a leader on campus by serving as a resident adviser at Hubert Hall."
Education Objective
In addition to dealing with roommate conflicts, RAs also implement programs to educate students living in their dorm and promote interaction. If you are an education major or similar, your objective can focus on this aspect of RA life. You can show that the RA position isn't just a way to get involved on campus -- it helps prepare you for your career. For example: "To implement educational and social programs for residents in my role as a resident adviser."
Counseling Objective
Some responsibilities of an RA aren't on job descriptions. Students living in your dorm will form a bond with you and might come to you with their problems, whether they're having issues with their roommate or a significant other. Focus on this aspect of being an RA in your resume objective. This angle is particularly effective if you are majoring in psychology, social work or counseling. For example: "To serve as a supportive role model for students living on campus."