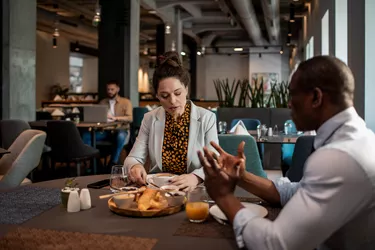 One of the best ways to build your professional network, prepare for an upcoming job interview and help with your career planning is to set up informational interviews. These meetings with professionals who hold jobs you want someday provide a wide variety of benefits.
They can also result in job leads or offers. Understanding what an informational interview is, how to conduct one and preparing for a variety of exploratory interview questions and answers will help you take advantage of this helpful career-building tool.
What is an Informational Interview?
An informational interview is one that you set up with a professional who has experience in a job that you're applying for, or who has a position that you'd like to hold, maybe even years down the road.
Your goal is to learn what this person does during the course of a week and year, what his or her job description is, how she got the job and what you can do to prepare for getting into this field or exact job someday, explains UC Berkeley's Career Center.
In some cases, you might be on the same level with the person you're talking to and you're looking to find work at his company. He might be a board member of a trade association you both belong to and you're interested in finding out about committee work leading to a board seat.
An information interview should not be a backdoor attempt to get a job. You will offend people if you tell them you're looking to learn more about them and their work and then spend the meeting pitching yourself, handing them a resume and asking them if they can help you get a job.
Definitely bring a few resumes to your meeting and offer them if asked, but don't offer one unless you feel it's appropriate. For example, if the topic of resume comes up during your interview, you might ask the person to look at yours and give you any suggestions for improving it.
Exploratory Interview Questions and Answers
When you're conducting an informational interview, tell your subject a little about yourself as it pertains to your career goals and why you've asked for the meeting.
Next, ask the person questions about herself:
Why did you choose to go into this career?
What is your typical week like?
What soft skills (e.g., project management, business writing, people skills) are important in your work?
How did you prepare to move up the ladder into your current position?
Do you belong to any trade associations or professional societies?
What magazines do you read and websites do you regularly visit?
Are there any conferences or trade shows you attend?
Do you have any licenses or certifications?
Do you have any advice to help me prepare for this career?
Questions You Might Be Asked
At some point, your interview subject might start asking you informal job interview questions. Be prepared to answer questions like:
Why are you interested in this field?
What are you doing now?
How are you preparing to move up the ladder?
Do you belong to any professional groups?
Do you go to any conferences or trade shows?
Do you have a timetable for moving into your next job?
How do you like working where you are now, and do you enjoy your work?
If you're a student, be prepared to answer questions about why you chose your school and major, how you like your major classes, if you're part of any student groups or associations and if you are taking any internships.
Make sure to send a thank-you email or letter to your interview subject within 24 to 48 hours. Highlight two or three pieces of information she gave you that left an impression on you. Finish by asking if she has thought of any other information you might find helpful, and let her know that you will let her know about your progress.
Make sure to connect on LinkedIn and throughout the course of your career, check in with informational interview subjects to let them know when you change jobs, get a promotion or join an industry committee or board.