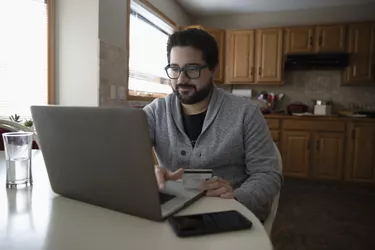 Banks and credit unions commonly offer online bill payment services when you open a checking account. The advantages of using this service include paying your bills any time of the day and gaining better control of your finances. Plus, you save money on postage and need to write fewer checks. Once you understand how online bill pay works, you can join the four out of five households with access to the Internet that rely on online banking, according to American Banker.
Online Bill Pay Basics
Financial institutions that offer bill pay services allow you to make payments online to businesses such as utility and credit card companies as well as to friends and family to whom you want to send money. All you need is a computer with an Internet connection and online access to your bank account. The bank then allows you to create a list of companies or people to whom you want to make payments. Banks typically allow you to choose the payee from a list of companies, but you can also set up your own list using the account number and the address the payment goes to. Your bank may charge for this service, but if you have direct deposit of your paycheck, it may waive the monthly fees.
Check or Electronic Payments
Utility and credit card companies are set up to accept online payments directly from your bank via an electronic funds transfer, known as EFT. Otherwise, the bank prints a check and mails it directly to the address you provide. If the payment is sent via a check, the bank covers the cost of the envelope and the postage. The payment goes through regular postal mail, so it can take days to reach the payee. EFT payments, on the other hand, are deducted from your account on the day you want the payment to go out, and are typically received by the payee within a day or two.
Recurring and Same Day Payments
If you make recurring payments, bill pay comes in handy for setting up automated payments for the same payment to be deducted at the same time each month, as long as you have the funds in your account. The bank allows you to set up changing automatic payments associated with credit card or loan accounts. Same-day payments are often available, too, although the bank typically charges a fee for this service.
Lack of Funds
When the funds are not available in your account on the day the payment is to be deducted, the bank may use overdraft protection to cover the payment. Otherwise, the bank cancels the payment, and the payment needs to be set up all over again.
Utilizing Mobile Apps
If you own a smartphone or a tablet, you may be able to use a mobile application created by your bank or credit union to set up payees and pay your bills. The app may also provide a way for you to make deposits and check balances, which is important if you need to first verify funds are available in order to use bill pay services. The apps are available from your device's app store.