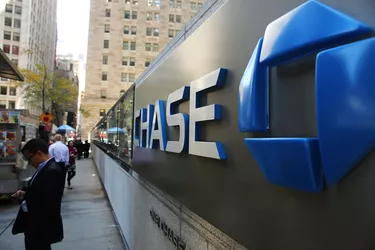 Whether you need to make a quick payment or set up automatic monthly payments, Chase provides you with various options for your credit card accounts. The fastest and most convenient option involves using the Chase website or app to pay with a linked bank account. However, Chase also has a 24/7 phone line, allows you to mail in payments and supports alternatives like ATM and third-party bill payments. You'll want to consider your payment source, preferences and the urgency of the payment when deciding which to use.
You can expect to see the payment credited to your Chase card the same day you make it. However, it can take an extra day or two to fully post if you make it after 8 p.m. EST or on a weekend.
Pay Through Chase.com or App
After you complete the online banking enrollment process through Chase, you can use a Chase or external bank account to easily make scheduled and recurring credit card payments. The enrollment process has you fill in personal details like your credit card and Social Security number to verify your identity as well as create online banking credentials. Once the signup has been completed, you can log in to Chase.com or the mobile app, see all your Chase accounts and make card payments.
You can then select the Chase card you need to pay and then look for the "Pay Card" option to schedule a payment. You'll specify details such as the amount to pay, scheduled date and payment source as well as see an option to set up automatic payments if you wish. For the payment source, you can either select a linked Chase bank account or select "Add External Account" to enter details for another bank's account to use. Selecting "Schedule" and confirming will complete the one-time or recurring payment scheduling process.
You can expect to see the payment credited to your Chase card the same day you make it. However, it can take an extra day or two to fully post if you make it after 8 p.m. EST or on a weekend. Note that Chase refunds any late fees that come up if you make the payment online late in the evening on the day it's due.
If you'd like to call Chase to pay a credit card by phone, dial the 24/7 phone line at 1-800-436-7958. You'll need to enter your card's last four digits, zip code and the last four of your Social Security number for account and identity verification. You'll then go through some options to select the payment amount and enter or confirm the details for the bank account from which you're making the payment. You should receive a confirmation code once you're through.
As long as you have enough time before your Chase card's due date to account for the mailing time, you can send Chase either a money order or check. Be sure the memo line on your payment has your credit card number and name so that the payment gets credited properly. You'll send the payment to Cardmember Services at P.O. Box 6294, Carol Stream, IL 60197-6294.
Other Chase Make a Payment Options
While you'll likely use one of the above Chase make a payment options, here are some other alternatives you can consider:
​Use a Chase ATM​: You can use a Chase ATM to pay your credit card using cash or funds from a linked checking account. To pay with cash, you'll use the credit card at the ATM and select the "Pay with Cash" option. To pay with a checking account, you'll need your PIN and Chase debit card, and you'll use the "Pay Bills" option.
​Use bill pay through your bank​: To pay from a checking account at another bank, look for your bank's bill pay feature that lets you set up various billers. You'll need to specify Chase and enter details such as your credit card number, payment amount and date. You can make this a one-time or recurring transaction.
​Use a third-party payment service​: Although you may have to pay fees, you can use services like MoneyGram and Western Union to make a Chase card payment through a local agent or online. You'll need to specify Chase as the payee and include your Chase account details during the process.