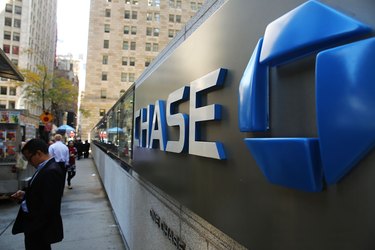 With operations in more than 60 countries, Chase is one of the largest banking companies in the world. Chase offers a variety of financial products and services, including online and retail banking, credit cards, investment products and mortgage and equity loans. Chase customers who need to make a credit card payment have several options available.
Online Account
Submitting a payment online is the easiest and most secure way to pay off a Chase bill. You first need to register for an online account with a user name and password. To make a payment online, log into your account, choose the "Payments and Transfers" tab at the top and then choose the account to pay off. Through the online portal, you can also opt to set up automatic payments, where your credit card balance due is automatically paid out of your bank account each month. If you post a payment before 8 p.m., that payment gets credited to the account that day. Otherwise, it gets posted the next day.
By Phone
You can also call the automated phone service at 1-800-436-7958 to make a Chase payment, or call the customer service number located on the back of your card or billing statement. You will need to provide the account number for the card as well as your Social Security number to verify your account. Payments made through the automated system before 8 p.m. post for that day. If you call the Chase customer service line at 1-800-432-3117, you can make a payment between 8 p.m. and midnight and still have the payment post that day.
In-Person
Chase operates more than 5,500 bank branches across the country that accept payments for credit cards. You can find the closest Chase branch and its operating hours by visiting the Chase website. Payments made at a branch post that same day. To pay at a branch, you need your account number and some form of identification such as a driver's license.
Additional Options
You also have the option to make a payment through the mail by sending a check or money order with your name and account number to Chase's card member services department in Palatine, Illinois. Chase does not accept cash through the mail. Also, you can remit payment via Western Union wire transfer service. For wire transfers, you should use code city WALNUT and include your name and account number. Wire transfer payments incur extra fees from Western Union and can take up to seven days to post to your account.