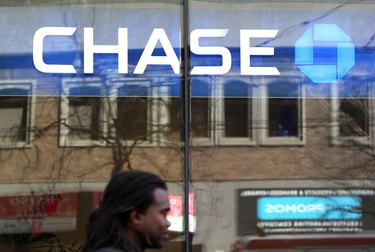 Credit card companies often provide their customers with blank convenience checks that can be used to access the credit lines instead of using the credit card. Writing a check from a credit card is not quite the same thing as swiping the card. A check from credit cards can be used to borrow money, transfer loans to credit cards, pay bills or transfer balances. They may also be used as cash advances, and there may be fees and interest rates involved.
Chase Bank sometimes provides their credit card account holders with convenience checks. These can be used to make payments to organizations and other people, and the amount paid will show up on the account holder's credit card statement. These checks can also be used for cash advances when the account holder makes out the check in their own name. Chase limits these cash advances to a percentage of the credit card's limit. So if the limit is ​$25,000​ and the cap is ​25 percent,​ the maximum cash advance is ​$6,250​.
Other financial institutions may have different limits and percentages. There may also be fees involved, such as ​5 percent​ of the total cash advance. If the advance is not paid back on time, there may be interest charges to contend with as well. Banks may also charge a bit more when cash advances are taken out at ATM locations, and these can be higher if this is done when traveling in international destinations.
Chase credit card account holders who do not have convenience checks can contact the bank to request some. Not all customers are eligible for these, and this can be explained by the representative. These checks look pretty much the same as personal checks and are filled out in the same way. For a cash advance, make out the check to "cash" and sign it on the back.
Using Checks From Credit Cards
To cash a check from credit cards, do not fill out the information until you are at the place where you want to cash it. If it is made out to cash and signed, it could end up in the wrong hands and anyone could be able to cash it. Convenience checks can be cashed at any institution that cashes checks.
There are pros and cons to using convenience checks. They are good when you need to make a payment but credit cards are not accepted. One example of this could be monthly rent. Convenience checks are also good when you need cash fast but there is not enough money in your bank account; they can be very helpful if you are in a pinch. Some credit card companies will also allow account holders to pay their credit card bills with their own convenience checks.
Convenience checks are not free money and need to be repaid. The charges appear on the monthly statements, and there are also those fees and high interest rates to think about. Also important: there are no grace periods for convenience checks – if the balance is not paid in full immediately, interest charges start to accrue. Although the average credit card interest rate can be around ​16 percent​, the rates for convenience checks can be as much as ​25 percent​. True to their name, these checks are convenient, but they should always be used with care.