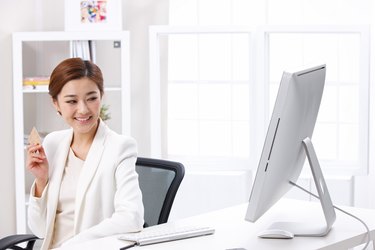 There are seven ways you can make your payment to Discover Card. If you need the payment to post fast, payments made online or by phone before 5 p.m. EST are credited the same day. Discover Card does not charge any fees for any payment options.
Pay Online
You can pay directly online, using the Discover Card Account Center. You will have to log into the Account Center, or register to use the Account Center if it is your first time. You have to enter your checking account information only once, making it even easier the next time you use this method. Automatic deduction from your bank account of either your balance or minimum payment can be set up at the Account Center through Discover Card's DirectPay option. You can cancel or edit a scheduled payment up to 5 p.m. on the payment posting date.
Pay by Mail
If you prefer to pay your bill by mail, you can send your payment to Discover Financial Services, P.O. Box 6103, Carol Stream, IL 60197-6103. Write your full Discover account number on your check and never send cash. You can pay by personal check, cashier's check or money order. Send your payment early enough to allow for mail and processing time to avoid any late fees. Discover Card recommends mailing your payment seven to 10 days before the due date.
Pay Using Your Phone
If you prefer to pay by phone, you can do so any time by calling 800-DISCOVER. You can also pay using your mobile phone after you register to make online payments through the Discover Account Center. Mobile phone payments use your Account Center login and password.
Pay in Person
If you prefer to pay in person, you have two options. Check with your local Sears, as many stores accept Discover Card payments. If your store is one of them, you can make your payment to any sales associate. Write your full Discover account number on your check and keep your payment receipt as proof of payment. Sears will not accept payments made by cash, money order or cashier's check. If you need to pay using cash, Western Union is your only option. You can wire a cash payment to Discover Card from any Western Union location and expect your payment to be credited to your account within 24 hours. Western Union charges a fee for this transaction. Be prepared to provide your account number and the code city name for Discover Card, which is Westpay, IL.