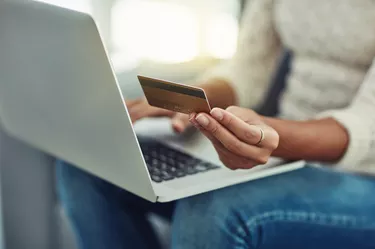 A Belk credit card brings plenty of benefits, including rewards for each time you use it and 20 exclusive savings events each year. But for Belk's most loyal customers, the card makes it easy to buy items, whether in the store or online. You can pay your Belk bill online or through the mobile app, but you'll first need to register for an account. You can also mail your payment or pay by phone.
Tip
Belk cardholders can pay a bill at any time at belkcredit.com/payyourbill by signing up for an account, then choosing the Bill Pay option.
Pay Belk Credit Card Online
After you use your Belk card for the first time, a balance will start. You'll have 23 days from the end of each billing cycle to pay your card balance. You can pay that balance at any time through the Belk site, but first, you'll have to set up an account.
To pay your Belk bill online, go to belkcredit.com and register for a new account. Once you're signed up, when you go to belkcredit.com/payyourbill, you can choose the credit card bill pay option and follow the prompts to make your payment. You may already have an account with Belk.com, but that won't work for bill payments.
Pay Through the Belk App
You don't have to rely solely on the online Belk portal for credit card payments. You can also make payments through the Belk app. You'll first need to download it to your mobile device and register for an account.
Once you've logged into the app with your new account, you'll select the Payments tab to pay your bill. The prompts will guide you through the payment process. Repeat this process at least once a month to pay your Belk bill online and avoid missing a payment.
Consider Other Belk Payment Options
As always, you can pay your credit card through postal mail. It's important to mail your payment to the correct address and write your credit card number on the check or money order to avoid a delay. Mail your payment to: Synchrony Bank/Belk, P.O. Box 530940, Atlanta, GA 30553-0940.
You can also pay your credit card balance by phone. This is often an option if the due date is rapidly approaching and you don't want to pay your Belk credit card online. Call 800-669-6550, either say or input your credit card number and follow the prompts to make the payment.
Getting a Belk Credit Card
If you don't have a Belk credit card and you want one, you can easily sign up on the Belk website. Before you can be approved, you'll need to have a reasonably good credit score. As long as your FICO is 650 or greater, you should be able to get one.
Go to the Belk portal at belk.com/belk-credit-card-rewards-benefits.html and select Apply Now and Continue to Belk Credit. You'll have to provide basic information and your annual income to apply. You can also sign up for a credit card in any Belk store.
Reporting Lost or Stolen Card
Although you can pay your Belk credit card online, you won't be able to report a lost or stolen card through the site or the app. You'll need to get in touch with the credit card issuer immediately to stop any further activity. This requires making a phone call.
Call 1-800-669-6550 to report a lost or stolen card. If it's after hours, follow the prompts to report your card missing. You should be able to watch the Belk portal to see if the card has been put on hold soon after reporting it.