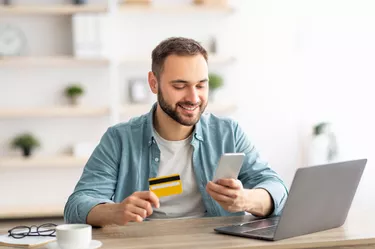 Before you try to use your new Discover credit card, you'll want to make sure it won't be declined. That means you'll need to activate it before your first transaction.
You can activate Discover credit cards using the same basic methods you use to activate any other debit or credit card. You can activate the card by phone, online from the Discover website or using Discover's mobile banking app.
What Is Activating a Card?
To help reduce fraud, credit card companies won't allow a card to be used until the bank verifies that the correct person has received the card. This prevents someone from stealing a card that's been mailed and using it.
Cards are activated by the account owner, who provides the bank with information such as the card number, expiration date and security code (three digits on the back of the card), along with information about the owner, such as name, Social Security number, address, phone number or birth date, depending on the bank's activation procedure.
Activate Discover Credit Card by Phone
When you receive your card, you might have a sticker on it with a phone number. Call the number and follow the prompts, providing the information requested. This might include the full card number, expiration date and security code, then information such as the last four digits of your Social Security number, your birthdate or zip code.
If possible, make your call from the phone number you provided on your credit card application, which is the number that is now associated with the account. This provides one more layer of security (the phone system will recognize your number and require less information).
If you prefer to speak with a live customer service representative to make sure your card is activated, follow the prompts to get to a human. If you lost your sticker, call 800-DISCOVER (800-347-2683)
You can also activate your card by going to Discover's card activation page. You will choose to activate your card by logging into your Discover account or without logging in. If you choose to activate your card without logging in, you'll be asked for your birth date, last four digits of your Social Security number, full card number, expiration date and three-digit sequence ID (the three numbers on the back of your card that follow the letter "A").
If you choose the "log in" option, you'll fill in your account user ID, password and three-digit sequence ID. You'll need to have a Discover online account, which takes only a few minutes to set up. Once you're in your account, follow the rest of the directions to activate your card. If you are having trouble navigating to the right page, use the search tool and enter the word "activate."
You can download Discover's mobile app for iPhone from the Apple Store and for an Android from Google Play or Amazon. Set up your account (you'll need your account details) and then follow the directions for activating a new credit card.
Look toward the bottom of your screen for the "Services" link. Click on that and select "Manage Cards & Devices" and then select your credit card account. You can activate, de-activate or report a card lost or stolen from here.