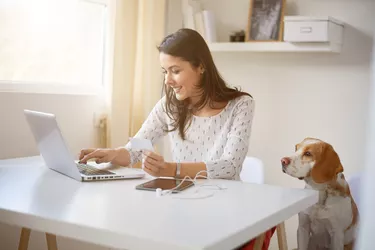 Based in India, HDFC Bank's heavy focus on new banking technologies has made it popular with consumers. HDFC's debit cardholders have access to a variety of benefits, including discounts on fuel, shopping and travel, as well as cash back on purchases. Once you've received your HDFC Visa debit card, you'll need to activate it by using it at an ATM, logging into your NetBanking account or calling the activation phone number.
Easily Activate HDFC Debit Card
If you've been approved for an HDFC Visa debit card, you'll get a welcome kit in the mail. This will include your debit card along with an ATM personal identification number sealed in an envelope. You can take your debit card to an ATM and, using the PIN in the envelope, activate the card. At this point, you'll be asked to create a new PIN for your card.
You may also be able to activate your HDFC debit card using NetBanking. Log into NetBanking and go to Debit Card. You'll find instructions there on changing your PIN for your card. If you just need to change the PIN, you can do this at any time by going to the Change Password section of your NetBanking account.
With some locations, you'll be given an HDFC credit card activation phone number. That number should be included with your welcome kit. Once you've dialed the number, you'll be prompted to input the PIN or given security questions to verify your identity. After the verification, follow the prompts to activate your card.
Activate for International Use
If you plan to travel outside of India, you'll need to make sure you're covered for international use. Your bank needs to know what currency you'll be using, the amount you'll likely spend each day and the timeframe for your trip. You can activate HDFC debit cards for international use easily by logging into your NetBanking account.
To activate your HDFC Visa debit card, go to Cards and select the Debit Cards menu. Click on Request and choose Set International/Domestic Usage. You'll then click on Card to Be Enabled for International and Domestic Use. You can also choose Modify International Limit to set a daily spending limit while you're traveling.
Activate HDFC Credit Card
If you have a credit card rather than a debit card, the activation process will be similar. You can use the HDFC credit card activation phone number to contact banking services and activate it, or you can go to your nearest ATM and activate it by inputting the PIN and changing it.
For those who choose to use the card at an ATM rather than by calling the HDFC credit card activation phone number, there will be a confirmation text message once your PIN has been successfully changed. This is a security measure to protect you in the event someone else intercepts your welcome kit and tries to activate your card using the PIN. If you get such a message and you haven't activated your credit card, contact HDFC immediately.
Report Lost HDFC Debit Card
A lost debit or credit card can be stressful, but don't panic. Your HDFC card includes protection against unauthorized transactions, giving you zero liability for those purchases. Just as when you activate HDFC debit cards, you have a variety of options for reporting a lost or stolen HDFC debit card, including calling one of HDFC's banking numbers, which are listed at the HDFC Phone Banking site page.
As soon as you realize the card is missing, you should report it. If you're still looking, though, you can block any transactions from going through by logging into your NetBanking account. Go to Debit Card, then Debit Card Hotlisting and select the card you want to hotlist. You'll input a reason for hotlisting it and your card will be officially blocked from use.