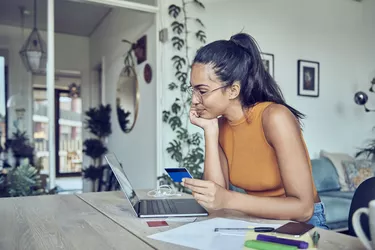 Missing a payment or making a late payment that gets reported to the credit bureaus are two of the biggest things that damage your credit, according to myFICO, the main credit scoring company.
You can keep a good payment history on your Aspire credit card by setting up online payments to make sure you never miss one. You can also mail in payments or make them over the phone.
Understanding how to submit your Aspire card payments will help you avoid late fees, interest penalties and damage to your credit history and score.
The most reliable way to make your Aspire card payments is to set up autopay. Visit the Aspire website and create an online account. Click on the "Create Account" link. You'll begin by entering your last name, Social Security number and date of birth. Hit the "Submit" button and follow the rest of the directions to create your account.
Once you've created your account, look for the autopay option. You'll be asked to choose a monthly payment date, which you can select, or use the monthly payment deadline. You can choose to pay the same amount each month (that you select), pay the entire balance each month or pay the minimum amount due.
Once you are finished making your selection, you should get a review screen that asks you to verify your choices. Once you accept, your auto-payments are set up.
To make sure you've done everything correctly, log out of your account, re-enter your Aspire credit card login and navigate to auto-payments and check to see if you're all set.
Making Manual Online Payments
If you want to make a one-time Aspire credit card payment (including in addition to your monthly auto-payments), you can login to your Aspire account using your user ID and password and clicking on the "Make a Payment" link. Follow the instructions to pay your minimum balance due, total card balance or another amount you want to pay this one time.
You can also use the Aspire Account Center mobile app to make payments. Download it at the Apple Store or from Google Play to your phone and follow the directions.
Credit card companies let you make payments over the phone using a touchtone system or by speaking to a live agent. Call the number on the back of your card or 855-802-5572. If the system allows you to make your payment using your phone number tones, follow the prompts. You'll be asked for information such as your card number, last four digits of your Social Security number, zip code and CVV number.
If you are more comfortable speaking to a human, choose that option. To get to a human fast, you can speak "Agent" or "Associate" into your phone.
Before you make your payment, you might want to let the system or a customer service representative give you your balance, last payment date and next payment due date.
If you choose to receive paper statements each month, you'll get a payment page and return envelope so you can make a snail-mail payment. Mailing your payments to a credit card company can be risky. If your mail is lost, delivered late or returned to you, you will probably miss your payment due date.
If you're going to make a payment by mail not using your pre-printed payment slip and envelope, be careful what address you use to send in your payment. The envelope on your statement might have a return address on it that's different from the address you use for payments.
Look on the back of your statement sheet for information regarding payments, including the correct address. You can also call the number on the back of your card and ask a customer service representative for the correct mailing address.
When you write your check, make sure to put your full card number in the memo line toward the bottom, left-hand side of the check, to the left of the signature line.