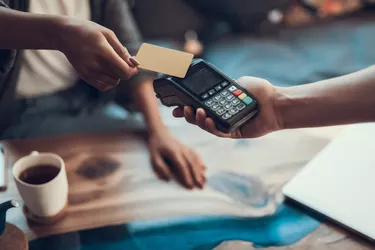 Offered through the Bank of Missouri, the Aspire Credit Card is an unsecured Mastercard available through invitation. To apply for this card, you need to have received a pre-approval letter from Aspire that will contain an acceptance code you can use to gain access to the online application process. After filling out the online card application, you'll have your Aspire credit card mailed to you and gain access to the card's features such as its online banking app and credit score monitoring service.
Aspire Credit Card Mastercard Basics
The Aspire Credit Card Mastercard comes in two versions that you may be offered. The first is a generic Aspire Mastercard that doesn't offer any rewards, while the second is the Aspire Cashback Reward Mastercard that gives you 1 percent cash back whenever you use the card. Both cards come with some basic benefits like sending you transaction alerts, letting you see your credit score and not holding you liable for fraud. Previously, you could get an Aspire Visa credit card, but Aspire has removed that card from its website as of publication.
Aspire tailors its credit cards to those who have poor credit and want to rebuild it without needing a secured card backed by some kind of asset like a bank account balance. This means the card tends to have a higher interest rate on purchases along with fees you might not pay on other cards.
As of publication, Aspire's cardholder agreement states an annual percentage rate between 22.74 and 36 percent. Your first year's annual fee can range from $49 to $175 but fall to $0 to $49 afterward. You'll also pay an account maintenance fee of $60 to $159 per year that takes effect after having the card for one year
Applying for the Aspire Card
Aspire will send you an invitation to apply for its card as part of a screening process for pre-approval. This means Aspire has seen your basic credit information through a soft credit pull and finds that you qualify based on their criteria. When you get this Aspire credit card pre-approval letter in the mail, look near the end of the letter for a 14-digit acceptance code in bold.
Visit the Aspire website and click the "Respond to Offer" button to go to the page where you see a small form to enter and submit your acceptance code. This will open up the application where you'll need to fill in any requested personal information needed, confirm the terms of the card and finalize and submit the application. You'll see a confirmation message at the end of the process and will usually receive your card within 10 business days.
If you threw away or lost the letter, you can still apply since Aspire has a lookup tool on its website. Rather than typing your acceptance code in the field, look below for a link beside "Can't find your acceptance code?" You can then use your zip code, last name and last four numbers of your Social Security number to pull up the application, agree to terms and conditions and then confirm you want to submit the application.
Activating Your Aspire Credit Card
Once you've received your Aspire Mastercard, you can create an account for the Aspire Account Center to activate the card on the website or through Aspire's mobile app. You can use the "Activate Card" link on Aspire's website to get started making your account or logging in to activate the card. In addition to using the Aspire Account Center to activate the card, you can pay your monthly card bill, view statements and see recent transactions. You can also see your credit score after 60 days have passed since you opened your account.
If you prefer to activate the card by phone, you can call Aspire's card services at 1-855-802-5572. You'll have to enter your Social Security number for verification and then follow the system's prompts to select the option to activate a card.