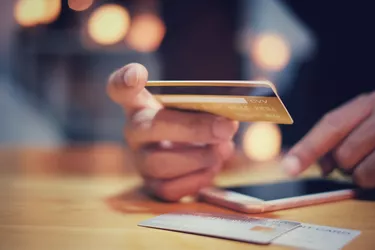 Changing your billing address on your credit card is a simple process, but if you make a mistake, you can damage your credit scores and have charges rejected. You can change your address online, over the phone or by mail. Following the proper steps will help ensure that you change your address correctly, pay your bills on time and avoid having charges declined.
Most credit cards allow you to create an online account to let you access your credit card information.
To create an account, all you have to do is go to your credit card issuer's website and follow the steps as outlined. You can update your address 24/7 by logging in to your account and following the directions.
Change Your Billing Address Online
Once you've logged in to your account, look for a link to your account settings, which might be a word or phrase like "Settings," "Account Details," "Profile" or "Billing." Your name, mailing address, phone number and email address should appear on this page. In some cases, you can start typing in your new address over the current information you see. In others cases, you might need to click on an "Edit" button or an icon of a pencil.
After you've updated your address, look for a "save" or "submit" button and click on it. When you're done, you should get a message that tells you that you have successfully updated your information. To double check, log out of your account, then log back in. Navigate to your profile page to see if your new address appears.
Instead of updating your information online, you can call the customer service number on the back of your card and ask the customer service rep who answers to change your mailing address.
When you reach a CSR, he might ask you to verify your name, full mailing address and/or your account number or Social Security number. Once you've been verified, ask the CSR to update your mailing address. The change should be instant and not take several days.
Make the Request in Writing
Credit card companies let you change your address by mail if you can't or don't want to change your mailing address online or over the phone. Look for the address on your monthly statement. It might not be the address on the outside of the envelope your statement comes in. Read the fine print on the statement for instructions for making changes to your account by mail. Those instructions will provide the correct address.
You can also Google the name of your credit card issuer to find the address or navigate to the company's website to find the address.
Understand Why This Is Important
When you make purchases online, you are often asked for the street address associated with the account. If you do not provide the correct information, you can't make the charge, even if you gave or entered the correct name, card number and security number on the back of your card. Also, if you receive statements by mail and then mail back your payment each month, you can damage your credit by mailing in your payment late due to an incorrect address issue.
If you have set up autopay with any businesses (such as your utilities, car loan, cable, phone or internet provider), make sure you go to their websites and update your address in the proper area. Should they try to bill your card and the address or zip code you set up for autopay is incorrect, the charge might not go through, resulting in a penalty fee or loss of service.
Having the correct billing address associated with your card is also one more layer of security to avoid identity theft, explains Bankrate.com.