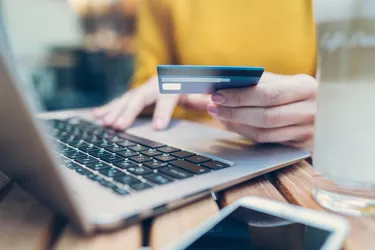 If you find an unrecognizable charge on your Citibank credit card, you have a variety of options for disputing the transaction. You can call Citibank, log in to your card account, write a letter to Citibank or contact the merchant that made the charge by phone, mail or their website.
According to information on Citibank's monthly statement, you have 60 days to file a dispute regarding a charge. Their directions state that you can call to have your dispute settled instead of writing, but that they are not required to investigate disputes reported by phone.
Understanding the process and what you need to dispute the charge will help you remove unauthorized charges and protect your account and overall credit.
Dispute Charge Citibank Options
If you want to take the quickest route to settle the dispute, call Citibank at 800-842-6596 or 800-950-5114. If you are hearing impaired, use 877-693-0218. You can find the current numbers on the back of your credit card and your monthly statement.
Despite Citibank's warning that they might not investigate if you make a claim by phone, it's worth giving a call, which could result in the instant removal of the charge.
You'll need to have several pieces of information available to get through Citibank's automated phone system, and for the customer service rep you reach to open an inquiry.
You will need to provide some or all of the following information:
Your full name
Account/card number
CVV number (on back of card)
Mailing address
Phone number
Social Security number
Date of transaction
Merchant name
Amount of transaction
Once you have provided the customer service rep with all of the information requested, you will need to explain why you are disputing the charge. You might not recognize it (it's fraud), you might dispute the amount, it might be a recurring subscription you did not authorize or had previously canceled or you might have another reason.
Once you have made your report, Citibank will investigate the transaction (usually by contacting the merchant). After Citibank makes its determination, it will notify you of their ruling. If they decide in your favor, they will remove the charge and any interest from your card. During the investigation, Citibank can't try to collect the amount or report you as delinquent.
You can write to Citibank, providing them with all of the information above. You can call Citibank and ask for the address, or look for the address on your statement. If you don't receive paper statements by mail, log in to your Citibank account and download or view an electronic statement.
Your Citibank statement will have two addresses on it: a return address and a payment address. Use Citibank Customer Service P.O. Box 6004, Sioux Falls, SD, 57117-6004 or P.O. Box 6500, Sioux Falls, SD 57117.
If you want to handle the issue online, log in to your Citibank account. If you don't have one, you'll have to create one. With the correct information (e.g., name, account number, etc.), you'll have instant access to your information once you create the account.
Navigate to the main account details page, click on a transaction and choose the "Dispute Charge" link. Follow the directions. If you want to check on the status of your investigation, navigate to the "Dispute Center" link on the main page and follow the directions.
Before you contact Citibank, contact the merchant who made the disputed charge. If you don't recognize the merchant, Google the company to see if you can contact them by phone, email or their website. If they look suspicious, don't contact them or they'll have your phone number and/or email address.
If you choose to contact them, be prepared to give them your name, date of transaction, amount and reason for the dispute. Ask them to remove the charge. If they refuse, contact Citibank.