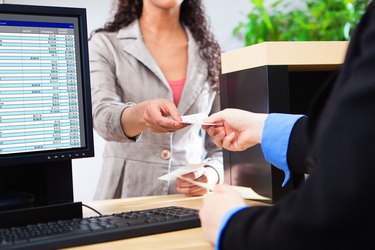 Bank of America allows its credit card holders to dispute, or stop payment on, charges that they claim are incorrect. If you are unable to resolve the issue with the merchant, the customer service agents at Bank of America can provide assistance.
Contact the Merchant
Before you cancel a transaction at Bank of America, contact the merchant to inquire about the purchase and ask for assistance in reversing the charge. If that fails and the merchant refuses to issue a refund, contact Bank of America for further help.
Initiate the Dispute
There are three different ways you can contact Bank of America customer service to dispute a credit card charge: online, by telephone or through the mail. Gather all pertinent information before contacting the bank, such as:
Credit card account number.
Billing statement where the charge appears.
Dollar amount.
Date the charge posted to your account.
Merchant information.
Any other information that may be helpful, such as the last four digits of the reference number for the charge.
Stop the Payment Online
If you have established an online account with Bank of America, you can initiate the process online.
Sign into your online banking account and open your credit card account.
Choose the tab labeled "Information & Services."
In the "Services" area, find the section called "Dispute a transaction/get status." Click the "Dispute a transaction" link.
Select the statement period when the disputed transaction occurred, and click the button next to the transaction.
Click "Continue" and follow the instructions for submitting the dispute.

Stop Payment by Telephone
Call customer service at (866) 266-0212. Follow the prompts to dispute a transaction and give the customer service representative all the relevant information, including an explanation of why you are disputing the charge.
Stop Payment in Writing
Send a letter with all the necessary information to identify the disputed charge to Billing Inquiries, P.O. Box 982234 , El Paso, TX 79998-2234.
What Happens Next
Disputes can take up to 60 days to resolve. In the meantime, Bank of America will suspend the disputed charges from your account, and you do not have to pay for those charges during that time. Depending on the nature of the dispute, Bank of America might send you a formal letter to confirm the charges you are challenging.
If the bank finds in your favor, it will remove the charges completely from your account. If the bank finds in the merchant's favor, you will have to pay the charges, but the bank will not charge interest or fees for the time the charges were held in suspension.