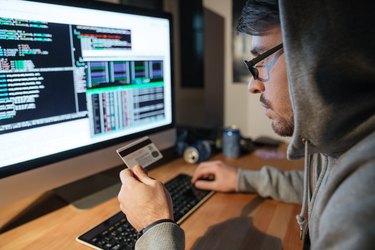 Things You'll Need
Internet connection

Credit card company contact information
Tip
If your card has been stolen, it is a good idea to get a copy of your credit report in four to six weeks. Many people can use a stolen credit card to commit further identity theft. Your credit report will warn you if there have been additional accounts taken out in your name.
A stolen credit card can be nerve-wracking, even though all major credit cards offer fraud protection for their clients. As a rule, you should leave tracing your stolen card to the credit card company and law enforcement. After all, they have better tools and are equipped to deal with the thief once caught up with. However, if you wish to trace the usage for your own records, there are things you can do with your consumer tools.
Step 1
Set up online account access prior to any problems. Preferably, you should do this within a week of receiving your credit card. This gives you access to daily spending and usage reports at almost the speed your card company gets it.
Step 2
Call your credit card company immediately upon discovering that your card has been stolen. If you have misplaced your card and are not certain, check your online account access daily to look for illegitimate charges.
Step 3
Instruct your credit card company to close the card immediately. This means you will only have to trace back records for fraudulent charges.
Step 4
Call the three national credit-reporting agencies: Equifax, Experian and TransUnion (see Resources). Report the theft and ask them to flag your cards against fraud.
Step 5
Print out your past month of transactions of check them online. Identify any transactions that you did not make or approve. Contact your credit card company and notify them of the amount and location of the charge. They will use this information to refund the charges and to help law enforcement track the card down.