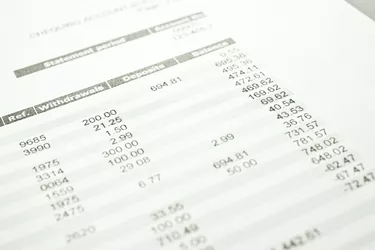 The process for changing a billing address for any Visa debit or credit card is easy and quick, regardless of who your card issuer is. Depending on the bank, credit union or other lender who issues your Visa, you can update your personal information with a phone call, by going online, by using an app, by visiting a bank branch or mailing the request.
Keeping your address up to date not only guarantees you'll get important notices your card issuer mails to you, but it will also help you avoid having transactions declined when the information you enter doesn't match what your lender has on file for you.
A Visa card can be a debit or credit card that's part of the Visa financial network. Many different financial institutions offer Visa cards. For example, if you have a Bank of America debit card, it will be a Visa. You'll need to contact Bank of America to change the Visa debit card billing address. If you have a Chase Bank credit card, it might be a Visa.
This means you can't change your address with Visa, because you are not their customer. You'll have to change your address with the company that issued your Visa card.
Why the Correct Address Is Important
With many payment methods, in order to complete many card transactions, you'll need to use the zip code associated with the card, so it's important that you remember which address you have used for your account. If you change your address on your Visa card, you'll need to update your zip code on any auto payment programs you've set up, or your rent, phone, internet, cable or utility bill might not get paid the next cycle.
Change Your Address by Phone
The quickest and easiest way to change the address associated with your Visa card might be to call the number on the back of your card. Follow the prompts to get to a human. Tell the customer service rep you want to change your address.
You'll need to provide several forms of identification. This prevents fraud. Have your card number, security code from the back of the card, Social Security number, PIN, current mailing address that's associated with the card and your phone number ready to give to the rep. You'll probably only need your card number and one or two other pieces of information, but it's good to have all of this information handy. If you set up a secret password, such as your mother's maiden name or pet's name, you might be asked that.
You will probably not be allowed to change your address to a post office box number – credit card companies require a physical address so they can locate you in the event you default on your account.
Change Your Address Online
If you have an online account set up, log in and navigate to your profile or personal settings. Find the area to update your address and make the change. Make sure you get an onscreen confirmation that your address has been changed to make sure you did everything correctly. This notification might read, "Congratulations, you have successfully updated your address."
You should get an email or text confirmation, depending on how you set up your contact preferences. Log out and log back in and check to see that your account now has your new address.
If you don't have an account set up, you can do so in a matter of minutes. Have the same account and personal information you would use during a phone call ready to create your account. Once you're in, your phone, email and mailing address should already be populated in your profile settings. Navigate to that area to make your changes.
Most debit and credit card issuers have mobile apps you can download from the Apple Store or Google Play. Download the app, set up your login credentials and make your address change using the app. Log out, then log back in to see if your account now shows the new address.
Use the information contained in your monthly billing statement to update your address. Don't use the return address on the envelope the statement comes in – look on the backside of one of the pages for the correct mailing address. Give this process 10 days or more to take place. If you get paper statements in the mail, your address change might take one billing cycle before the statement goes to the new address.
If your Visa card was issued by a bank or credit union, you can stop in one of its branches and change your address by talking to a bank representative and providing the proper ID and card information. Bring a driver's license or other government-issued ID, which might be required for an in-person change of address.