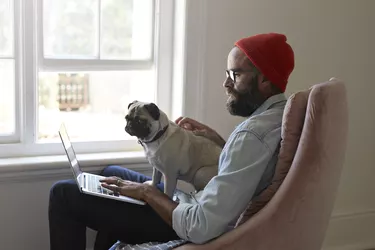 When you need to make a Capital One credit card payment, you can use the Capital One website or mobile app, where you can also review your statements and account balance, set up payment notifications and manage your card. If you'd prefer an alternative, you can use the Capital One phone system or send a payment through the mail. To make things more convenient and help avoid the consequences of late or missed payments, you can always choose to set up automatic Capital One bill pay.
Pay Capital One Bill Online
You can easily make a Capital One credit card payment online through either the Capital One website or mobile app. You'll first need to set up online access if you haven't already. You can then log in through the site or app and set up a payment account like your savings or checking account.
To do this, select the "Profile" option on the toolbar or app menu, tap "Settings" and then look for an option to add a payment account. You'll need to select the type of bank account it is, fill in information including your routing number and account number and then confirm you want to add the account.
You can then simply go to your main account page, select the credit card and click the "Make a Payment" button. Choose your payment account, desired payment date and payment amount and then confirm to make the payment. Depending on the time of day, the online payment may post by midnight or by the next business day.
Send Your Payment by Mail
If you'd rather not pay online and want to use a check or money order, you can mail your payment in to Capital One. Put your card number on the memo or note field of your money order or check so the company applies it to the right account. You can then mail it to Capital One, Attn: Payment Processing, P.O. Box 71083, Charlotte, NC 28272-1083.
To avoid any late payment fees, Capital One recommends sending your payment in early to allow for the extra time needed for it to arrive. So, if you're at risk of a late payment, consider the online or phone option instead.
Call in Your Payment
Making a Capital One credit card payment by phone using a checking or savings account requires calling 1-800-227-4825 to reach the cardholders' services. When you call, the system will prompt you to give the last four digits of the card you need to pay and will ask for the last four numbers of your Social Security number to check that you're the right cardmember. After you confirm the information, you'll access a voice automated system that will tell you information about your account such as your payment due date and minimum payment.
When asked what you'd like to do, tell the automated system you want to make a payment. Follow the prompts to give a payment amount and date and provide the information for the account you want to use to make a payment. You should get a payment confirmation number at the end of the call.
Automatic Capital One Bill Pay
To avoid the hassle of remembering to make payments and to prevent late payment fees, Capital One encourages you to enable autopay. If you go to your selected credit card's information page on the Capital One website or app, you'll find an option called "Manage Autopay." Here, you can set up the monthly payment date, select the payment account and designate the payment amount. Once submitting your request, Capital One will make the payments for you until you change or cancel autopay.